Last Updated on April 13, 2020 by The 'Noms.
Two fantastic seafood recipes for you to try! And of course, they are boozy! Bourbon Shrimp and Fried Cod Tacos with boozy pineapple!

Seafood isn't something that is normally associated with living in Nebraska, but every spring in the weeks before Easter, Fridays become "Fish Fry-days" as folks around here observe Lent and have big fish fries with lots of fried fish and big crowds. And while those big fish fries can be fun, they also have long lines and fish that can sometimes be pretty plain! If you want to avoid those long lines and get some really great fish, do like we did and turn to the folks at World Port Seafood and get seafood delivered right to your door!
This post contains sponsored content brought to you by World Port Seafood. We received free products and compensation to use in this promotion, but all opinions and views presented here are 100% our own. Sponsorships like this help us keep making cool new recipes for you and provide them to you free of charge! For further information please see our Disclaimer page.
Pin Tacos HERE, Pin Shrimp HERE!
Seafood
Wait, did we just say seafood delivered right to your door? You read that correctly, as the folks at World Port Seafood ship premium seafood right to your door! Being food bloggers from Omaha, we are very familiar with the folks over at Omaha Steaks, who are famous for delivering fine steaks right to your door since 1952.
The folks behind Omaha Steaks decided to put the experience of more than sixty years of delivering fresh cut steaks to delivering sea food. They started World Port Seafood to source, pack and ship high quality seafood right to your door!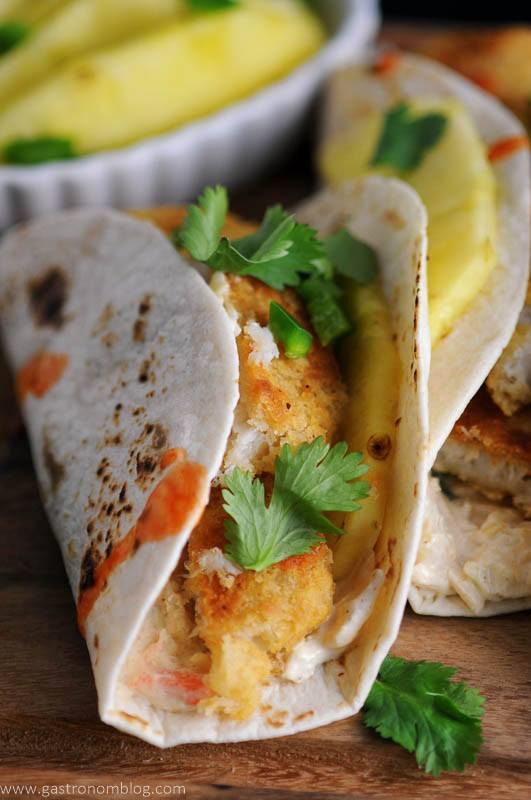 World Port Seafood
World Port Seafood uses sustainable practices for all their sea food, be it wild caught or responsibly farmed, all of which is cleaned and flash frozen right at the point of catch. This is to preserve the seafood at the peak of freshness. Freezing the fish right after being caught allows the fish to be preserved as close as possible to the fresh state. This also makes it easier to transport to the distribution and processing centers.
World Port Seafood's freezing technique flash freezes the fish, creating smaller ice crystals and not damaging the cell structure of the seafood, which results in you getting as close to that freshly caught flavor and texture as possible! Plus with the catch being frozen and packed right away, the fish can be caught when in season and delivered to you fresh as the day it was caught!
Seafood in Omaha
Since we are located right here in Omaha and we might be one of the biggest participants in Fish Fry-day since it is Lent. World Port Seafood shipped us their World Port Seafood Lent Favorites pack, which is a great example of some of the seafood that World Port Seafood offers. This pack features some Market Seafood (fresh fillets and shellfish straight off the boat) and some Ready to Cook seafood (chef prepared selections ready to pop into the oven or onto the stove top.) In this pack you get Pub Style Cod, 4 (4.5 oz.) Stuffed Sole with Scallops and Crabmeat
, 2 (1.5 lbs. pkgs.) Fire-Roasted Lemon Garlic Tilapia Fillets
and a big pack of Wild Argentinian Red Shrimp!
We wanted to give you readers a way to use some of these great ingredients! When Fish Fry-day came about the other day, we were ready with a delivery to our door and an idea for some great fish dishes! Then we picked one of the Ready to Cook selections (2 (18 oz. pkgs.) Pub-Style Cod
) and one of the Market Seafood selections (Wild Argentinian Red Shrimp) to make some really outstanding seafood for our Fish Friday. This is while staying true to our specialty of boozy food!
Spicy Fish Tacos
We started out by using World Port Seafood's 2 (18 oz. pkgs.) Pub-Style Cod
to make some Spicy Fish Cod Tacos with Rum Soaked Pineapple slices! The Pub Style Cod is a great fish for cod tacos, light and flaky cod with a nice crispy battered coating, perfect for a crunchy bite in a delicious taco!
What Ingredients are Needed for the Spicy Fish Tacos?
Coleslaw

Mayo
Pepper
Apple Cider Vinegar
Cumin
Shredded Cabbage
Sour Cream
Salt
Garlic
Chili Powder

Rum Soaked Pineapple

Golden Rum
Jalapeno
Pineapple
Lime Juice

Tacos
Speaking of cod tacos, our Spicy Fish Tacos with Rum Soaked Pineapple slices were delicious, full of crunchy fish, creamy spicy slaw, and jalapeno and rum soaked pineapple! Spicy, sweet, tropical and crunchy with a nice little hit of rum, these cod tacos were little vessels of spicy love!
Bourbon Shrimp
Our second dish uses World Port Seafood 2 (16 oz.) Wild Argentinian Red Shrimp
in a really great dish, Bourbon Shrimp with Cheesy Grits! Shrimp and grits is a classic southern meal, deliciously hearty, especially when you have really good shrimp!
The 2 (16 oz.) Wild Argentinian Red Shrimp
we received were beautiful big shrimp, fully cleaned and de-shelled and once thawed, were ready to use! We marinated the shrimp in a rich spicy sauce to give it a bold flavor and then sauteed the shrimp in the sauce to concentrate the flavor.
What Ingredients are Needed for the Bourbon Shrimp with Cheesy Grits?
Grits

Cheese
Grits
Butter
Water
Salt
Cayenne

Shrimp

Butter
Bitters
Brown Sugar
Shrimp
Bourbon
Mustard
Canola Oil
Paprika
Chives
Cayenne
Salt and Pepper
Shrimp and Grits being southern, we needed a good southern spirit to add a bit of flavor to this seafood dish. We added a little bit of bourbon to finish up the dish and add a rich hint of caramel bourbon flavor! Served on a bed of creamy cheesy grits, the shrimp were delicious hits of spicy and sweet with a great hint of bourbon that makes this dish a real hit!
If you want to get your own fresh seafood delivered right to your door, check out Join our email list today and earn 15% off your first order!
today. Follow the link and you can get a great deal on your own Lent Favorites pack, plus tons of other great seafood deals, plus if you order over $49 you get it shipped and delivered to your door for free!
Cheers!
Looking for More Dinner Ideas, Try These!
Like this recipe? Try these below, too!
Other Boozy Seafood Recipes
Also, don't forget to follow us on Instagram and tag #gastronomcocktails so we can see all the wonderful recipes YOU recreate from this site!
You can also subscribe to our weekly newsletter so you never miss a delicious recipe again!
Yield: 8 Tacos
Spicy Fish Tacos with Rum Soaked Pineapple
Prep Time: 20 minutes

Cook Time: 30 minutes

Total Time: 50 minutes

Pub Style Breaded Cod Fillets from World Port Seafood is perfect to use in our Spicy Fish Tacos with coleslaw, rum soaked pineapple slices, hot sauce, lime juice and fresh cilantro.
Ingredients
Coleslaw
2 Tbsp Mayonnaise
1/2 tsp pepper
1 Tbsp Apple Cider Vinegar
1/2 tsp cumin
2 1/2 cups shredded cabbage
1/2 cup Sour Cream
1/2 tsp salt
1 1/2 tsp garlic
1/2 tsp chili powder
Spicy Fish Tacos with Rum Soaked Pineapple
1 pack Tortillas
1 18oz pkg World Port Seafood Pub Style Cod
Rum Soaked Pineapple
2 Tbsp Gold Rum
1 jalapeño, seeded and diced
1/2 pineapple, sliced into 1/2 moons
1 Tbsp Lime Juice
Instructions
Prepare the cod according to the package directions.

Mix the sour cream, mayo, lime juice, cumin garlic, salt and pepper, chili powder, apple cider vinegar and cabbage in a large bowl. Set aside.

Combine pineapple, jalepeno, lime juice and Rum in a shallow bowl.

Set aside for 30 minutes, stir every so often.

Toast or warm tortillas, place in slaw, fish (cut if prefered), and place pineapple slices on the sides of the tortilla.

Top with cilantro if wanted.
Recommended Products
As an Amazon Associate and member of other affiliate programs, I earn from qualifying purchases.
Nutrition Information:
Serving Size:
1 taco
Amount Per Serving: Calories: 251Total Fat: 6.5gSaturated Fat: 0gTrans Fat: 0gUnsaturated Fat: 0gCholesterol: 0mgSodium: 454mgCarbohydrates: 42.3gFiber: 3gSugar: 8.6gProtein: 6.27g
Yield: 4 servings
Bourbon Shrimp with Cheesy Grits
Prep Time: 10 minutes

Cook Time: 30 minutes

Total Time: 40 minutes

Our Bourbon Shrimp with Cheesy Grits features World Port Seafood Wild Argentinian Red Shrimp marninated in a spicy sauce and glazed with bourbon and brown sugar sits atop a bed of creamy cheesy stone ground grits and topped with fresh cut chives.
Ingredients
Grits
1 cup stone ground yellow grits
2 Tbsp butter
1 tsp salt
3 cups water
1 cup shredded cheese
1/4 tsp cayenne pepper
Shrimp
1/2 tsp each salt and pepper
1/4 tsp cayenne
chives
1 Tbsp paprika
1 Tbsp canola oil
2 Tbsp unsalted butter
2 Tbsp bourbon
1 tsp dry mustard
1 lb World Port Seafood Red Argentinian Shrimp
4 Tbsp brown sugar
3 dashes bitters
Instructions
In a large pot bring 3 cups of water to a boil.

Add salt, cayenne and butter, add grits with a whisk to prevent lumps.

Cover and simmer for 20 minutes.

Whisk in cheese a little at a time until all incorporated.

Cook 5 more minutes.

Toss shrimp with sugar and spices and bitters.

Heat oil in a large saute pan over medium high heat, add shrimp. Cook 1-2 minutes on first side, flip and cook 1 more minute.

Reduce heat to low, add bourbon, cook 1 minute.

Make sure to breakup browned bits on bottom of pan.

Add in butter and stir.

Garnish with chives on top!
Nutrition Information:
Yield:
4
Amount Per Serving: Calories: 586Total Fat: 27.3gSaturated Fat: 4.2gTrans Fat: 0gUnsaturated Fat: 0gCholesterol: 0mgSodium: 538mgCarbohydrates: 43.3gFiber: 1.5gSugar: 9.4gProtein: 36.9g
PIN THESE SHRIMP AND GRITS, AND BOOZY TACOS RECIPES FOR LATER!
Interested in stocking your own home bar? Make sure to see our favorites at our Amazon Store!
If you liked this recipe, don't forget to subscribe for new (and of course free) recipes by entering your email address on the side bar (and get all the recipes delivered to your inbox when we post), so you don't miss out on a thing. You can find us on Facebook, Instagram, Pinterest and Twitter!
Gastronomblog is a participant in the Amazon Services LLC Associates Program, an affiliate advertising program designed to provide a means for sites to earn advertising fees by advertising and linking to amazon.com
Follow my blog with Bloglovin