Last Updated on
An Italian Amaro Cocktail, very herbal and light.
We recently had an evening to catch up with some friends and were sitting on the deck enjoying cocktails! We were trying to figure out how to make one of these evening happen in a far away location like Napa, when one of our friends mentioned they were taking a trip to Italy to celebrate a milestone anniversary. They asked what kind of cocktails they might run across while they are exploring Italy. While we knew they would run into classics like the Spritz or a Bellini and especially the Negroni. We also knew they would run across an amaro of some variety.
This is a sponsored post by Amaro Lucano. This post contains affiliate links for products that we think you as readers might find useful, and we make commission off of these! For more details about our affiliates, click our Disclosure and Contacts Page.
Amaro Cocktail
We had just received in a bottle of Amaro Lucano to play with, and with our friends upcoming Italian adventure as inspiration, we came up with the Lucky Lucano.
Coupe (ours is vintage) / Shaker
What is an amaro?
An amaro is a traditional Italian liqueur made from a mix of herbs, spices and botanical elements. They were usually concocted for medicinal purposes, but these days are used as a digestif and served as an after dinner libation. Amaro Lucano is one of the most iconic Italian amaro liqueurs. Theoriginal recipe created way back in 1894 by Cavalier Pasquale Vena, a pasty chef who owned a biscuit factory.
Working in the kitchen, Vena created a blend of more than 30 herbs, hot infusing them into a spirit to create a liqueur that is richly flavored with a balanced citrus flavor and floral highlights.
Amaro Lucano soon became a favorite sipping digestif and quickly spread across the Italian peninsula. The fine flavors attracted the attention of the Royal House of Savoy. Being chosen by the ruling family of the Kingdom of Italy was a massive stroke of luck for the Vena family and Amaro Lucano. This likewise allowed the liqueur to go from a small provincial liqueur to a liqueur that was in demand in all of the finest drinking establishments across Italy.
With that luck in mind, we decided to name our cocktail the Lucky Lucano!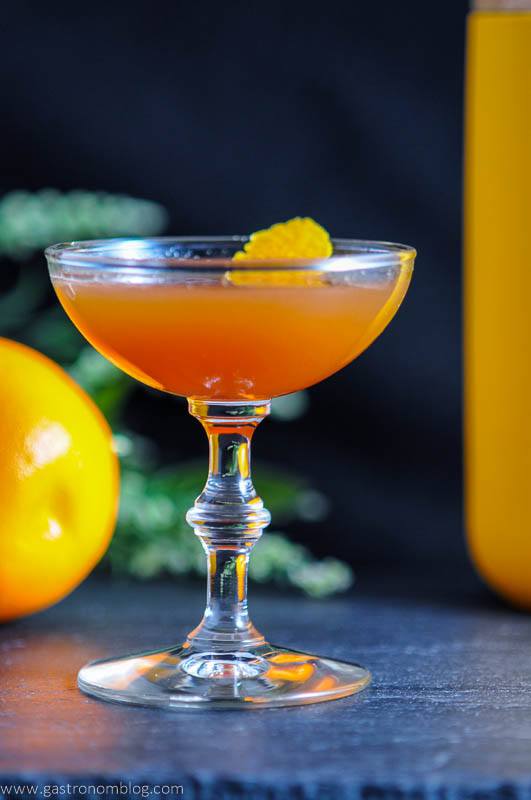 Muddler / Hawthorne Strainer / Fine Mesh Strainer
What Ingredients are Needed for the Amaro Lucano?
Bourbon
Plum
Amaro
Lemon Juice
Simple Syrup
The Lucky Lucano combines Amaro Lucano, a robust bourbon and the juice of a ripe plum to make a bold boozy cocktail. It is sure to delight fans of classic old fashioned cocktails, as it's pretty boozy. Amaro Lucano brings a bold slightly bitter flavor full of warm spice that pulls the sweetness of the plum and caramel flavors of the bourbon.
The dose of bourbon brings a strong boozy undertone that stands up to the boldly flavored Amaro Lucano.
A dash of fresh squeezed lemon adds a bright note that pulls the delicate citrus flavors that are a hallmark of Amaro Lucano. also. The fresh plum gives a sweet fruity freshness and brings along some of the rich flavors of late summer. We hope you will enjoy the Lucky Lucano!
Cheers!
Like this recipe? Try these below, too!
Other Amaro Cocktails
Also, don't forget to follow us on Instagram and tag #gastronomcocktails so we can see all the wonderful recipes YOU recreate from this site!
You can also subscribe to our weekly newsletter so you never miss a delicious recipe again!
PIN THIS LUCKY LUCANO RECIPE FOR LATER!
Interested in stocking your own home bar? Make sure to see our favorites at our Amazon Store!
If you liked this recipe, don't forget to subscribe for new (and of course free) recipes by entering your email address on the side bar (and get all the recipes delivered to your inbox when we post), so you don't miss out on a thing. You can find us on Facebook, Instagram, Pinterest and Twitter!
Gastronomblog is a participant in the Amazon Services LLC Associates Program, an affiliate advertising program designed to provide a means for sites to earn advertising fees by advertising and linking to amazon.com
Follow my blog with Bloglovin