Last Updated on June 8, 2023 by Leah Hall
Using a Japanese Barley Liquor for these Shochu cocktails, we made a twist on the classic sidecar!
One of the coolest parts about developing and writing about cocktails and spirits is when we discover a spirit that was totally unknown to us. Sometimes we find new spirits when we travel (does anyone else love visiting distilleries, breweries and vineyards?) and sometimes we are lucky enough to get a spirit delivered right to our door so we can explore!
Japanese Sidecar
We dig getting booze mail, so when the folks at iichiko asked if we wanted to try some of their different expressions of shochu, we figured what better way to take a quick trip to Japan without leaving our kitchen?
This post contains sponsored content brought to you by iichiko. We received free product for use in this promotion but all opinions and views presented here are 100% our own. This post contains affiliate links for products that we think you as readers might find useful, and we make commission off of these! For more details about our affiliates, click our Disclosure and Contacts Page.
So if we were to ask you what you think is most popular alcoholic beverage in Japan, what would you say? If you are like us, you likely answered that question with either sake or one of the many varieties of Japanese whiskey, but you would be wrong!
Shochu
The most popular spirit in Japan is shochu, which is a true distilled spirit that is made from a variety of starches, from buckwheat, rice or even sweet potatoes, but the top quality shochu varieties are made with barley, and the best distiller of barley based shochu is famed Japanese distiller iichiko.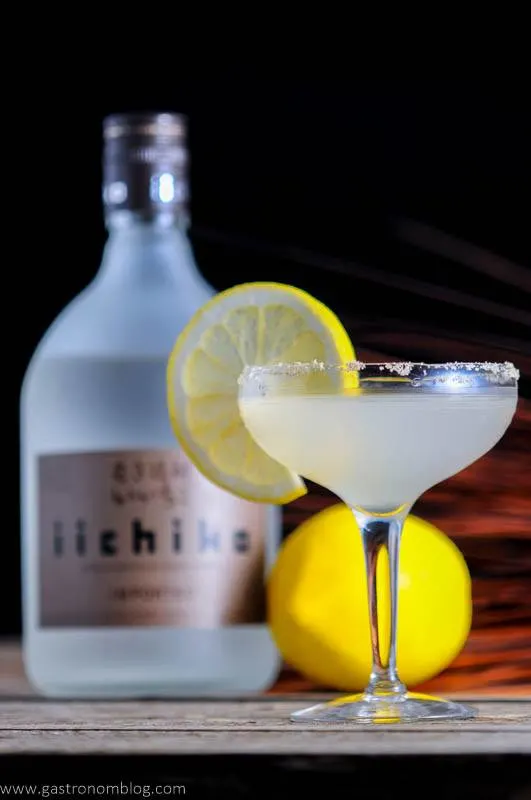 Shochu is often compared to sake, but unlike sake which is brewed like beer, shochu is a distilled spirit like vodka. Unlike vodka, shochu has a much more complex distillation process that starts with the selection of the grain. Like its slightly more famous cousin sake, there are different grades of shochu that are dependent on the amount of polished grain used in the distillation.
Like sake, the more the grain is polished, the smoother the the resulting shochu.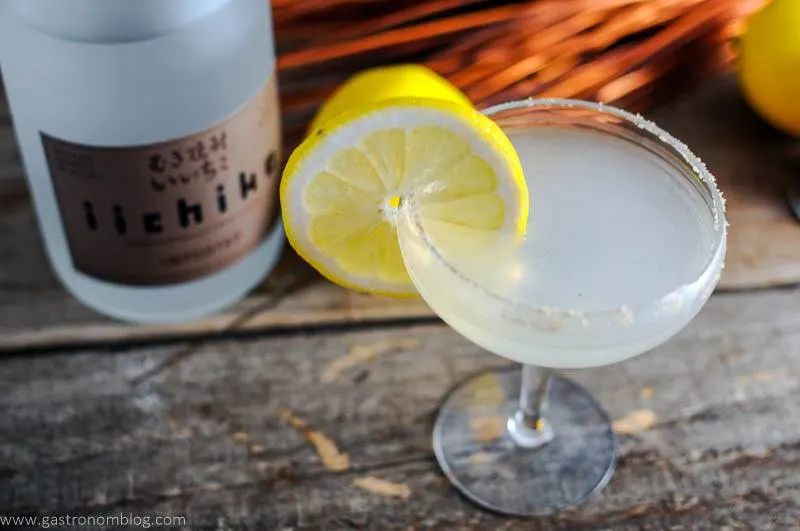 How to Use Shochu in a Cocktail
For this drink, we used iichiko's Silhouette, a 100% barley shochu that is produced by polishing the barley down until 60% of the grain remains. The barlely is then mixed with yeast, koji (a special type of bacteria that causes fermentation, which equals alcohol!) and pure spring water and allowed to ferment until there is a mash that can be distilled.
The use of the koji results in that unique funky umami flavor that is a characteristic of Japanese food and drinks (think that tangy flavor in sake!)
What Ingredients are Needed for the Japanese Sidecar Cocktail?
Brown Sugar
iichiko Shochu
Lemon Juice
Triple Sec
Orange Bitters
Iichiko Silhouette is a single distillation, which results in a relatively low alcohol content of only 25%. Unlike vodka which is relatively flavorless, iichiko Silhouette has a wonderful aroma and flavor of peach, citrus and toasted nutty barley which reminded us of an unaged rye whiskey, but with out the sharp burn as a result of the lower alcohol content.
Silhouette is wonderful when served neat, as its low proof level makes it an easy sipper, but is a real star when mixed in these Shochu cocktails!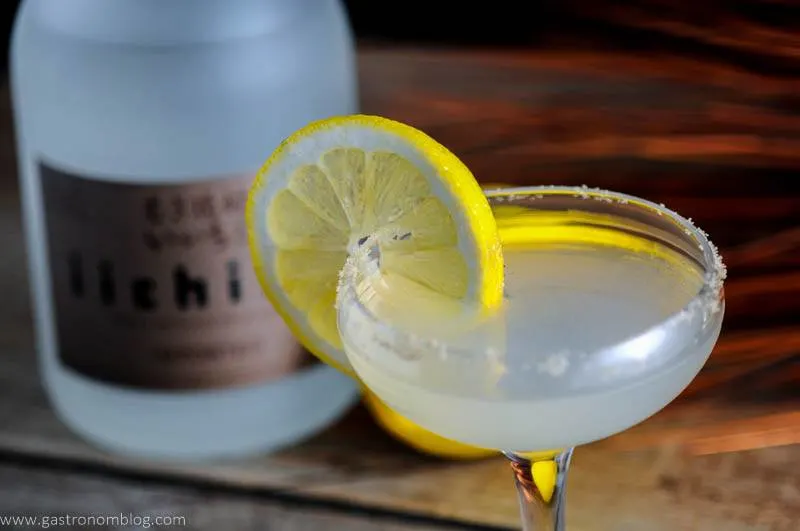 What Other Flavors with Shochu
We liked the hint of citrus iichiko Silhouette shochu had, so we decided that we should make a variation of one of the classic citrus cocktails, the Sidecar. The sidecar is traditionally made with cognac, orange liqueur and fresh squeezed lemon juice, which results in a tart, refreshing citrus cocktail.
For our Japanese Sidecar, we used the iichiko Silhouette shochu in place of the cognac, which really allowed the flavors of the shochu to really shine! The sweetness of the orange liqueur worked really well with the nutty toasty flavors of the shochu which makes this a delightful sipping cocktail!
Cheers!
Also, don't forget to follow us on Instagram and tag #gastronomcocktails so we can see all the wonderful recipes YOU recreate from this site!
You can also subscribe to our newsletter so you never miss a delicious recipe again!
Like this recipe? Try these below, too!
Blood Orange Sidecar
Apple Cider Sidecar
Other Shochu Cocktails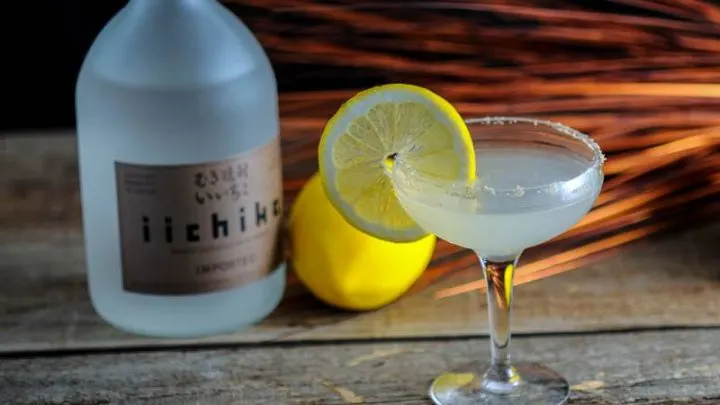 Yield:

1
The Japanese Sidecar - A Iichiko Silhouette Shochu Cocktail
A barley liquor based cocktail, this Japanese sidecar combines lemon and triple sec.
Ingredients
Japanese Sidecar Cocktail
1.75 ounces iichiko silhouette Shochu
.75 ounce triple sec
.50 ounce freshly squeezed lemon juice
4 dashes orange bitters
brown sugar for rimming glass
Instructions
Wet the rim of a coupe glass with lemon juice.
Dip the rim of the glass into the brown sugar to rim the glass.
Add the iichiko shochu, triple sec, bitters and lemon juice to a shaker.
Add ice.
Shake and strain into your rimmed glass.
Garnish with a lemon wheel.
Cheers!
Recommended Products
As an Amazon Associate and member of other affiliate programs, I earn from qualifying purchases.
Nutrition Information:
Yield:
1
Serving Size:
1
Amount Per Serving:
Calories:

191
Total Fat:

0.1g
Saturated Fat:

0.1g
Trans Fat:

0g
Unsaturated Fat:

0g
Cholesterol:

0mg
Sodium:

1600mg
Carbohydrates:

0.4g
Fiber:

0.1g
Sugar:

17.4g
Protein:

0.4g
Interested in stocking your own home bar? Make sure to see our favorites at our Amazon Store!
If you liked this post, don't forget to subscribe for new (and of course free) recipes by entering your email address on the side bar (and get all the recipes delivered to your inbox when we post), so you don't miss out on a thing. You can find us on Facebook, Instagram, and Pinterest!
Gastronomblog is a participant in the Amazon Services LLC Associates Program, an affiliate advertising program designed to provide a means for sites to earn advertising fees by advertising and linking to amazon.com