Last Updated on October 6, 2022 by The Noms
Creamy and coffee-y as a latte martini, a vodka coffee drink, and one fruity as a blueberry pie! Cheers!
A lot of nights after getting the kids down to bed we like to settle down on our couch and watch some TV while blogging about cocktails. While this might seem rather distracting to productive writing, it can occasionally serve as a good point of inspiration, especially when you start to notice that lots of shows make food and drink a central point in the show.
Lots of shows use meals to help advance a plot point or to bring out a characteristic of a character. It really becomes amazing how many shows bring out some inspiration to us about what might make a good drink!
This post contains sponsored content brought to you by Smirnoff No. 21 Vodka. This post contains affiliate links for products that we think you as readers might find useful, and we make commission off of these! For more details about our affiliates, click our Disclosure and Contacts Page.
Latte Martini
One such show is HBO's Curb Your Enthusiasm, which also just happens to feature Smirnoff No. 21 Vodka's new spokesman, Ted Danson. Ted Danson is playing a version of Ted Danson. Curb Your Enthusiasm shows a fictional version of the life of Larry David, one of the geniuses behind Seinfeld, and his interactions with his celebrity friends like Ted Danson.
Larry always seems to find a way to drive his friends nuts with his crazy mannerisms. Of course this leads to a bunch of awkwardly hilarious situations!
What Ingredients are Needed for the Prettay Good Latte?
Vodka
Chocolate Coffee Liqueur
Cinnamon
Heavy Cream
Cocoa Powder
Cayenne Powder
Smirnoff No. 21 Vodka asked us to come up with a pair of cocktails to help celebrate the return of Curb Your Enthusiasm to HBO for its 9th season on October 1st, 2017! We sat down and binge watched a couple hours where we noticed that Larry David and Ted Danson have quite the spicy relationship!
This spicy relationship provided us with the inspiration for our first cocktail, The Prettay, Prettay, Prettay Good Latte Martini.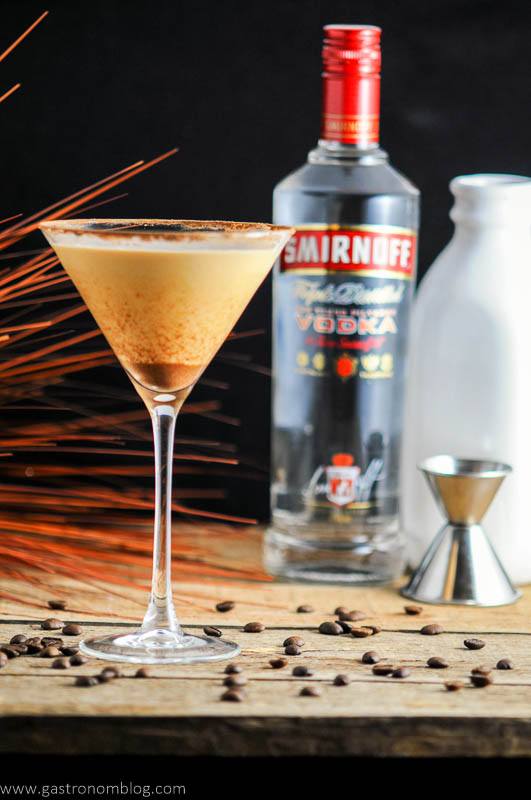 Prettay, Prettay, Prettay Good Latte Martini
The Prettay, Prettay, Prettay Good Latte Martini is inspired by Larry David's catch phrase and Ted Danson's love of a good martini. The Prettay, Prettay, Prettay Good Latte Martini is our version of an espresso martini, or a vodka coffee drink. But, with a spicy twist. We started out with a nice dose of the classic Smirnoff No. 21 Vodka and combined that with a bit of chili powder and cinnamon to bring a spicy and aromatic edge to the vodka coffee drink.
If You are Looking for More Vodka Cocktails, Try These!
Next we added in some cold brew coffee and a bit of chocolate coffee liqueur. This brought a rich deep coffee flavor to the vodka coffee drink. The combination of chocolate, coffee and spicy vodka makes for a great start, but you definitely need a bit of heavy cream if we were going to call this a latte cocktail!
The cream ties the whole drink together, bringing a silky smoothness and a satisfying richness. It brings out the deep coffee and spice flavors. Since Larry and Ted's interactions can get somewhat heated when Larry drives Ted nuts, we both thought this vodka coffee drink was definitely "Prettay, Prettay, Prettay Good!"
Desser"Ted" Blueberry Pie Cocktail
The second part of our cocktail pair is inspired by a hilarious scene where Ted Danson tries to send Larry and his dining partner a piece of blueberry pie when Ted sees Larry out to dinner at the same restaurant.
Larry is too full to even partake and tries to send the pie back with the waiter. But, he is interrupted by Ted stopping by to insist they try a bite. This leads to an argument and that poor piece of pie being Desser"Ted!"
What Ingredients are Needed for the Blueberry Pie Cocktail?
Blueberries
Lime Wedge
Vodka
Amaro
Amaretto
Ginger Ale
Our Desser"Ted" Blueberry Pie cocktail starts out with a bit of Smirnoff No. 21 Vodka, some muddled fresh blueberries and a lime wedge. The muddled blueberries imparts a fresh fruity tartness to the cocktail, plus makes for a beautiful purple color!
Blueberries and lime is always a killer combination, and using a fresh lime wedge brings a really bright and intense lime flavor to the drink. This helps bring a refreshing tart balance to the cocktail.
We wanted to bring out the baked goods flavors since we were calling this a pie cocktail, so we added some amaro. Amaro typically use lots of warm baking spices. This definitely brings to mind a delicious dessert. A bit of amaretto brings a hit of nutty sweetness to the cocktail that reminds the drinker of the toasty flavor of a fresh baked pie crust.
We topped the drink off with a splash of ginger ale which added a hint of ginger (another baking spice!) and a nice fizzy finish to the cocktail!
Cheers, and don't forget to check out the new season of Curb Your Enthusiasm!
Also, don't forget to follow us on Instagram and tag #gastronomcocktails so we can see all the wonderful recipes YOU recreate from this site!
You can also subscribe to our newsletter so you never miss a delicious recipe again!
Like this recipe? Try these below, too!
Salted Bourbon Butterscotch White Russian
Mini Berry Bites
Other Martini Cocktails
Other Blueberry Cocktails
Yield:

1
The Prettay, Prettay, Prettay Good Latte Martini and the Desser"Ted" Blueberry Pie Cocktail
Two special cocktails for the tv show Curb Your Enthusiasm, and Ted Dansen!
Ingredients
For the Prettay, Prettay, Prettay Good Latte Martini
1.25 ounces Smirnoff No 21 Vodka
1 ounce chocolate coffee liqueur
1 ounce cream
1/4 teaspoon ground cayenne
1/4 teaspoon ground cinnamon
cocoa powder
For the Desser"Ted" Blueberry Pie Cocktail
1 ounce Smirnoff No 21 Vodka
.50 ounce amaretto
.50 ounce amaro
2 ounces ginger ale
15 blueberries
1 lime wedge
Instructions
For the Latte Martini
Rim the martini glass with cocoa powder.
Combine all ingredients in a shaker with ice.
Shake until frothy.
Strain into martini glass.
For the Blueberry Pie Cocktail
Combine blueberries and lime wedge in a cocktail shaker.
Muddle until macerated.
Add in vodka, amaretto and amaro.
Shake and strain into a rocks glass with ice.
Top with ginger ale.
Garnish with lime and blueberries if desired.
Recommended Products
As an Amazon Associate and member of other affiliate programs, I earn from qualifying purchases.
Nutrition Information:
Yield:
1
Serving Size:
1
Amount Per Serving:
Calories:

513
Total Fat:

5g
Saturated Fat:

2g
Trans Fat:

0g
Unsaturated Fat:

0g
Cholesterol:

11mg
Sodium:

579mg
Carbohydrates:

87g
Fiber:

12.5g
Sugar:

68.3g
Protein:

4.4g
PIN THIS LATTE MARTINI RECIPE AND BLUEBERRY PIE COCKTAIL RECIPE FOR LATER!
Interested in stocking your own home bar? Make sure to see our favorites at our Amazon Store!
If you liked this recipe, don't forget to subscribe for new (and of course free) recipes by entering your email address on the side bar (and get all the recipes delivered to your inbox when we post), so you don't miss out on a thing. You can find us on Facebook, Instagram, Pinterest and Twitter!
Gastronomblog is a participant in the Amazon Services LLC Associates Program, an affiliate advertising program designed to provide a means for sites to earn advertising fees by advertising and linking to amazon.com