Last Updated on June 8, 2023 by The Noms
This color changing galaxy cocktail is like science! So neat to see it change color! Check it out, and make it yourself!
Back when we were kids and watching Bill Nye the Science Guy on TV, little did we know that some of those science experiments that we played about with would end up being useful when it comes to making drinks! Seeing some of the results felt like magic (especially when you are a kid!) Now that we are grown, we know it really was just the proper application of science!
Color Changing Cocktail
We saw a cocktail that slowly changed colors as the ice melted at one of our local cocktail bars. We then knew that we were going to have to spend a little time behind our bar figuring out how we could capture a little bit of that magic! The result is our Galaxy Magic Mule, a classic Moscow Mule with a little bit of magic ice to bring a showy flair!
This post contains sponsored content brought to you by JoyJolt Premium Glassware. We received these double wall mugs from JoyJolt to promote in this post, but all opinions and views presented here are 100% our own. This post contains affiliate links for products that we think you as readers might find useful, and we make commission off of these! For more details about our affiliates, click our Disclosure and Contacts Page.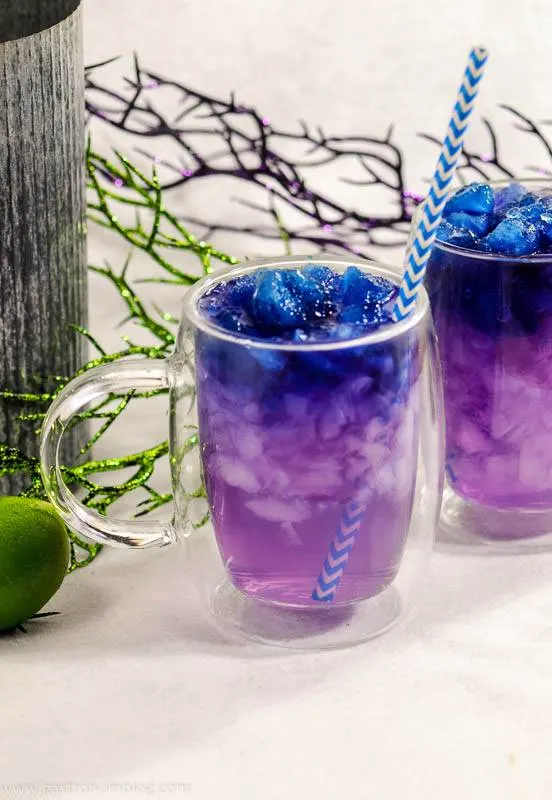 Eating With Your Eyes
When you talk to great chefs and bartenders, you might hear a common theme about how we not only eat (or drink in our case) with our taste buds, but we also eat with our eyes! We were out with friends a few weeks ago and stopped in at one of the great local cocktail bars here in Omaha that are always trying to make something new and exciting.
This particular evening, Mrs. Nom ordered a cocktail that came with a blue ice cube. It melted slowly changed the drink to a beautiful deep purple.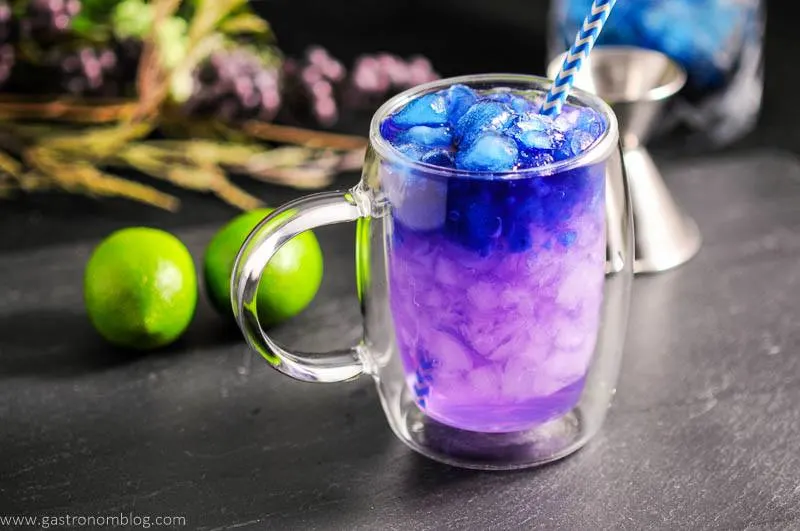 Everyone in our party was fascinated by the color changing cocktail. It not only looked awesome, but tasted delicious, too! Seeing this sort of excited reaction from our friends (who are not nearly as big of cocktail nerds as we are!) tickled something in our blogger brains which said "MAKE THIS!!!"
Butterfly Pea Flower
The next day we started doing a little research about a color changing galaxy cocktail. We discovered a whole trend of bartenders who were playing with the ingredient that was key to their success, the Butterfly Pea Flower!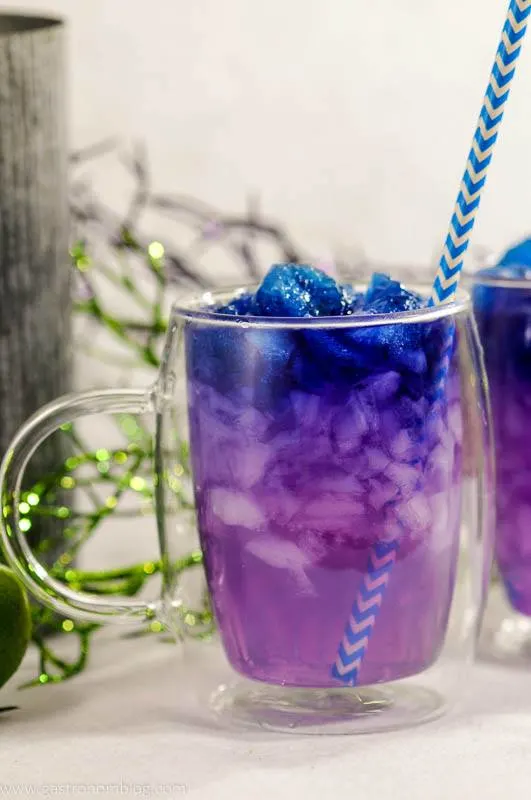 Interested in buying some Butterfly Pea Flower Tea to make this at home? Get it HERE!

Science in Cocktails?
The Butterfly Pea Flower is found all across equatorial Asia, where it was used in traditional medicine and as a natural food coloring. Prized for its deep blue color that it is able to impart to food, butterfly pea flower has one other very unique characteristic, it is a natural litmus strip! For those of you that might have dozed off in science class, a litmus strip is a chemically treated strip of paper that is used to determine the pH (acid or base) of a solution.
If You are Looking for More Vodka Cocktails, Try These!
In the case of the butterfly pea flower, when it is exposed to acidic liquids like citrus juice or carbonated water, it will turn purple. This reaction is the key to the magic! The reaction changes creating a colorful swirl of colors that looks like you are peering far into a galaxy! Speaking of a galaxy cocktail, check out this awesome lemonade from our friends at The Flavor Bender!
If You Are Looking for More Beer Recipes, Try These!
To make the Galaxy Magic Mule, we started out by brewing some Butterfly Pea Flower tea. This tea when brewed is a deep dark indigo color with a very mild (almost flavorless) tea flavor. We wanted to slow the chemical reaction down (when you add acid the reaction is really fast) so we froze the tea into cubes. Then this slows the reaction down significantly as it only reacts once the ice starts to melt. This results in the gorgeous gradient between blue and purple as the reaction starts to take place.
What Ingredients are Needed for the Galaxy Moscow Mule?
Lime Juice
Vodka
Ginger Beer
Butterfly Pea Flower Tea (more info below!)
The primary ingredients of a Moscow Mule (lime, vodka and ginger beer) are all acidic to a various degree. So, when we added the ingredients to the ice filled mugs, the color starts to change, creating a dramatic color changing galaxy cocktail! Normally we would serve a Moscow Mule in the traditional copper Moscow Mule mug. But, in this case, a spectacular color changing galaxy cocktail like this deserves to be shown off, so we used some of our glass double wall mugs from JoyJolt to serve these Galaxy Magic Mules!
These mugs from JoyJolt are perfect for Mules or Coffee!
Also, don't forget to follow us on Instagram and tag #gastronomcocktails so we can see all the wonderful recipes YOU recreate from this site!
You can also subscribe to our newsletter so you never miss a delicious recipe again!
Like this recipe? Try these below, too!
Lavender Lemon Gin & Tonic Granita Cocktail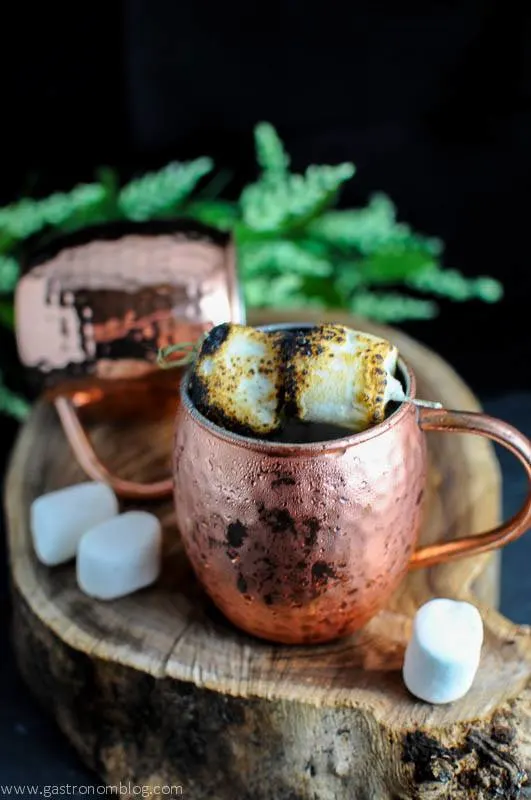 Campfire Mule
Other Butterfly Pea Flower Cocktails
Yield:

1
The Galaxy Magic Mule - A Vodka Moscow Mule
Total Time:
6 hours
20 minutes
A color changing cocktail, a twist on the classic Moscow Mule, and so pretty!
Ingredients
Magic Blue Ice
8 flowers of Butterfly Pea Flower Tea
2 cups hot water
Galaxy Magic Moscow Mule
2 ounces vodka
.50 ounce freshly squeezed lime juice
4-6 ounces ginger beer
crushed ice
Crushed "Magic Blue Ice"
Instructions
For the Galaxy Magic Mule
Partially fill the mug with crushed clear ice.
Top with crushed Magic Blue Ice.
Add lime juice.
Add vodka.
Add ginger beer.
Top with additional Magic Blue Ice.
For the Magic Blue Ice
Add hot water to the Butterfly Pea Flowers.
Allow to steep for 3-4 minutes.
Strain out flowers.
Pour into ice cube trays and freeze.
Crush ice and use in cocktail.
Recommended Products
As an Amazon Associate and member of other affiliate programs, I earn from qualifying purchases.
Nutrition Information:
Yield:
1
Serving Size:
1
Amount Per Serving:
Calories:

173
Total Fat:

0g
Saturated Fat:

0g
Trans Fat:

0g
Unsaturated Fat:

0g
Cholesterol:

0mg
Sodium:

9mg
Carbohydrates:

11.1g
Fiber:

0.1g
Sugar:

10.1g
Protein:

0g
Interested in stocking your own home bar? Make sure to see our favorites at our Amazon Store!
If you liked this post, don't forget to subscribe for new (and of course free) recipes by entering your email address on the side bar (and get all the recipes delivered to your inbox when we post), so you don't miss out on a thing. You can find us on Facebook, Instagram, and Pinterest!
Gastronomblog is a participant in the Amazon Services LLC Associates Program, an affiliate advertising program designed to provide a means for sites to earn advertising fees by advertising and linking to amazon.com