Last Updated on November 2, 2023 by Leah Hall
Easy guacamole bacon appetizers for a party, or just for snacking on. Low carb and Whole30.
With the big game coming up we were thinking about something we could bring to our friends' big watch party. With lots of party goers watching in multiple rooms we knew there would be lots of chips and dip and great finger foods for snacking and mingling. We decided that we would combine the dip and finger food with our Sweet Potato Guacamole Bacon Bites! This post contains sponsored content brought to you by Casabella and Melissa's Produce.
We received free product to review, but all opinions presented here are 100% our own. This post contains affiliate links for products that we think you as readers might find useful, and we make commission off of these! For further information please see our Disclaimer page.
Guacamole is a Great Party Dip
One of our go to dips for big gatherings is guacamole! It's cool, creamy and deliciously fatty and the perfect partner to salty chips and a perfect addition to one of our favorite foods, tacos! When the fine folks at Melissa's Produce. and Casabella's Guac-Lock asked us to come up with a recipe to celebrate guacamole and check out the Guac-Lock we saw the perfect opportunity to make a great party food, plus review a cool new product.
Guacamole Bacon Bites
While guacamole is a great party dip, it has one big drawback, you really can't make it ahead of time. It tends to oxidize and turn brown and totally unappetizing looking! When you are somewhat organized about food like we are, especially when we love to make things look fantastic, this is where the Guac-Lock comes in!
What about the Guac-Lock?
The Guac-Lock is a new product that is perfect for ambitious party planners like us to make their dips ahead of time. It's great to not worry that the look and flavor of their creations will fade over time. The Guac-Lock has an innovative elevator mechanism and seal system that allows you to squeeze out any excess air, preventing the guacamole from oxidizing and discoloring.
As a bonus, the container is shatterproof and with a locking seal, perfect for taking along to a party.
We put our Guac-Lock to the test for this recipe, as we started out to make this recipe and shoot the pictures. Ironically we got interrupted by life and we found ourselves shooting our Sweet Potato Guacamole Bacon appetizers a full 24 hours after we had made our guacamole! As you can see, our guacamole came out looking fresh with no hints of oxidation!
We were able to shoot pics, reseal the guacamole and serve the extra Sweet Potato Guacamole Bacon appetizers for dinner!
What Ingredients are Needed for the Sweet Potato Guacamole Bites?
Guacamole

Garlic
Salt and Pepper
Tomato
Lime Juice
Avocados
Onion

Sweet Potato Guacamole Bites

Bacon
Chipotle Hot Sauce
Red Onion
Salt and Pepper
Guacamole
Sweet Potato
Olive Oil
Our Sweet Potato Guacamole Bacon appetizers are some great finger foods. They are perfect as an appetizer for a cocktail party or a finger food for a big party! Combining fresh roasted sweet potato rounds, sweet red onion, crisp bacon and cool creamy guacamole and finished with a dash of hot sauce, these are sure to delight!
So, we started out with some great avocados from Melissa's Produce, providers of great fresh produce to make our guacamole. We mashed up the fresh avacado using Casabella's 4 'n 1 Avocado Tool and then mixed in some great fresh tomatoes, diced Melissa's pearl onions, fresh crushed garlic and fresh squeezed lime juice. We like a slightly chunky guacamole, which lets you get some of that smooth rich avocado!
Next we sliced up a sweet potato into thin rounds, seasoned them with salt and pepper and olive oil, then baked them to a golden toasty crispness. The roasting brings out the natural sweetness of the sweet potato while also crisping the sweet potato round into a crunchy bite perfect for holding our guacamole.
What Toppings Did We use?
We topped the Sweet Potato Guacamole Bacon Bites with some sauteed sweet red onions and crispy, salty diced bacon. Adding a hint of sweet and salt, the onion and bacon add a rich savory note that compliments the cool creaminess of the guacamole.
A topping of some chipotle hot sauce finishes the bites with a nice spicy hint of smoky sweet heat!
If you are looking for a great go to appetizer for a cocktail party or a watch party for the big game, give our Sweet Potato Guacamole Bacon Bites a try! They are sure to be a great hit!
Also, don't forget to follow us on Instagram and tag #gastronomcocktails so we can see all the wonderful recipes YOU recreate from this site!
You can also subscribe to our newsletter so you never miss a delicious recipe again!
Like this recipe? Try these below, too!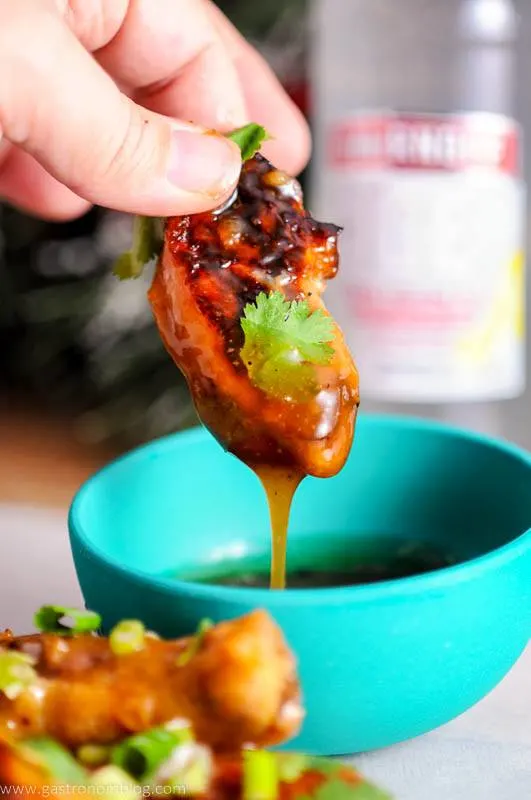 Citrus Asian Chicken Wings
Blackberry Goat Cheese Crostini
Other Sweet Potato Appetizers
Other Guacamole Appetizers
Yield:

1
Sweet Potato Guacamole Bacon Appetizer
These Whole30 approved appetizers that have bacon, onion, guacamole and sweet potato.
Ingredients
For the Guacamole
2 pearl onions, diced
3 ripe avocados
2 teaspoons freshly squeezed lime juice
1 roma tomato, diced
salt and pepper to taste
1 clove garlic
For the Sweet Potato Guacamole Bites
1-2 Tablespoons olive oil
1 large sweet potato, sliced
salt and pepper to taste
2 cups guacamole
1/2 medium sweet red onion, sliced thin
Chipotle Hot Sauce
4 strips of smoked bacon
Instructions
For the Sweet Potato Guacamole Bacon Bites
Peel the sweet potato
Thinly slice sweet potato, about 1/8 inch thick.
Place slices into a bowl and toss with olive oil, salt and pepper.
Spread slices out on a baking sheet.
Place into a preheated oven set at 300° for 25-30 minutes or until golden brown.
Remove from oven and allow to cool.
Cook slices of bacon, reserving 1 tsp of bacon grease in the pan.
Saute the red onion in the reserved bacon grease until slightly transparent.
Dice bacon and allow onions and bacon to cool.
Once sweet potato slices are cool, top with a scoop of guacamole.
Top with red onion and bacon.
Add a dash of chipotle hot sauce.
Serve.
For the Guacamole
Place the scooped avocado pulp into a large bowl.
Add in diced onion and garlic.
Add in lime juice.
Mash until you reach the desired level of creaminess.
Add salt and pepper to taste.
Recommended Products
As an Amazon Associate and member of other affiliate programs, I earn from qualifying purchases.
Nutrition Information:
Yield:
20
Serving Size:
1
Amount Per Serving:
Calories:

103
Total Fat:

8.7g
Saturated Fat:

1.4g
Trans Fat:

0g
Unsaturated Fat:

0g
Cholesterol:

4mg
Sodium:

243mg
Carbohydrates:

5.5g
Fiber:

2g
Sugar:

1.6g
Protein:

2.4g
Interested in stocking your own home bar? Make sure to see our favorites at our Amazon Store!
If you liked this post, don't forget to subscribe for new (and of course free) recipes by entering your email address on the side bar (and get all the recipes delivered to your inbox when we post), so you don't miss out on a thing. You can find us on Facebook, Instagram, and Pinterest!
Gastronomblog is a participant in the Amazon Services LLC Associates Program, an affiliate advertising program designed to provide a means for sites to earn advertising fees by advertising and linking to amazon.com