Last Updated on July 25, 2022 by Leah Hall
One of the best parts of spring is the fresh strawberries that start appearing in the stores and markets. We found a nice flat of fresh strawberries and put our mind to finding some new ways to enjoy the strawberries. A classic way to enjoy fruit is in a cocktail, and fresh strawberries can make a mean punch when paired up with a nice whiskey or bourbon.
I started with one of my personal favorite bottles of whiskey, Cut Spike's 2 Year aged Single Malt Whiskey, a locally distilled whiskey that has incredible smoothness and flavor, and paired it with a a home made black pepper and strawberry syrup as the base for my punch. The strawberry and pepper syrup makes this drink sweet with a bite, the black pepper a bold counter to the sweet strawberry.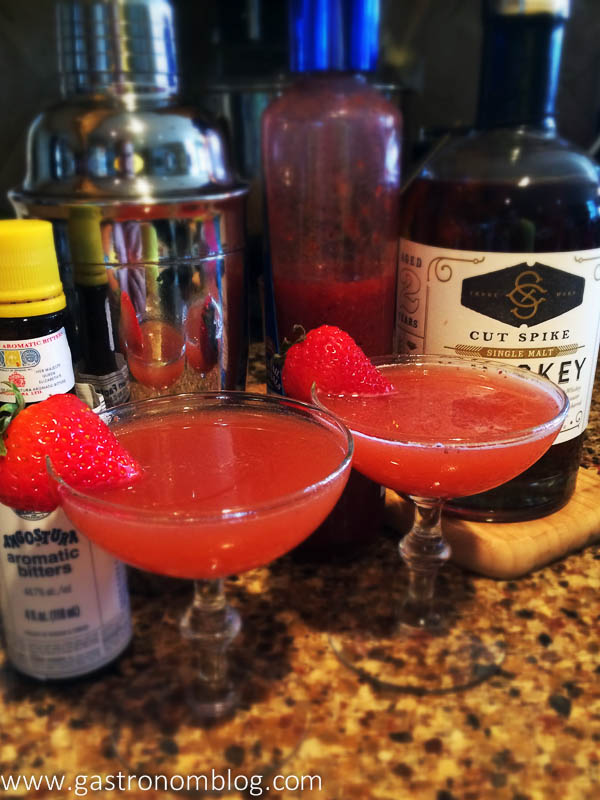 Yield:

1
Spiked Strawberry Punch
A whiskey based strawberry punch. Perfect for summer nights.
Ingredients
For the Cocktail
1.25 oz whiskey
1 oz Black Pepper Strawberry Syrup
.5 oz lemon juice
.75 oz simple syrup
2 dashes Angostura Bitters
Black Pepper Strawberry Syrup
4 cups of strawberries
1 cup sugar
1 cup of water
2 teaspoons fresh cracked black pepper
Instructions
For the Cocktail
Fill a shaker with ice.
Pour in the whiskey, syrups, juice and bitters. Shake.
Strain into a cocktail coupe.
Garnish with a strawberry slice.
Cheers!
For the Black Pepper Strawberry Syrup
Place strawberries, sugar, and water in a saucepan.
Add fresh cracked black pepper.
Bring to a boil and allow to simmer until the strawberries are soft.
Blend until totally liquified.
Strain the solids thru a fine mesh strainer to remove the seeds and solids.
Store in the refrigerator.