Last Updated on June 12, 2023 by The Noms
Spiked Hot Chocolate is like regular hot chocolate, but made adult and spiked with alcohol! You can spike it with whatever you would like, the possibilities are endless. Perfect for holidays and all winter long!
Do you want a cozy winter drink that warms you from the inside out? There is nothing better at taking a chill off than a homemade Spiked Hot Chocolate recipe! A mug of liquid chocolate that is rich and creamy, and with a dash of sweet liqueur or whiskey, it gives it a rich addition of vanilla. Or, add peppermint schnapps for a peppermint twist.
This post contains affiliate links for products that we think you as readers might find useful, and we make commission off of these! For more details about our affiliates, click our Disclosure and Contacts Page.
We have some great ideas of flavors and liquors to add to make your spiked hot chocolate even better!
Spiked Hot Chocolate
The best thing about Spiked Hot Chocolate is that it's customizable. It's a easy serve at parties, where you can put out various ingredients and let your guests choose their own flavors and toppings. Choose a chocolate that will melt smoothly in your recipe. The milk choice is also up for debate. Choose whole milk or half and half for a richer drink, and lower fat milk for a lighter beverage. Same goes for non dairy choices as well – oat milk, almond milk, etc.
This is a homemade hot chocolate recipe made for booze, and you can make it work with just about any combo of alcohol. Not sure what to pick? Make sure to read our list of suggestions below.
Best Liquor to Spike Hot Chocolate
What's the best ingredient to spike your hot chocolate? Here are some of our favorite liquors for spiked hot chocolate and tasting notes. Remember, your possibilities are endless, and really any combination will work, let us know what we missed in the comments!
Aged or Dark Rum – Adds vanilla and oak flavors
Bourbon/Whiskey/Rye – makes your cocoa cozy with a boozy bite
Creme de Menthe/Peppermint Schnapps: Minty and smooth! Makes your hot chocolate sweeter, so be aware of that. We have a great Peppermint Schnapps Hot Chocolate recipe, too!
Galliano/Licor 43– Vanilla liqueur, adds vanilla and spice flavor to a spiked hot chocolate.
Baileys – This Irish Whiskey liqueur adds a sweet and creamy chocolate note to any hot chocolate.
Kahlua – This rum based liqueur is sweet and full of coffee and chocolate flavors. Get the recipe for our Kahlua Hot Chocolate.
Creme de Cacao (dark or light) – Adds even more chocolate flavor with this cocoa liqueur.
Cointreau or Triple Sec – Adds orange flavor to your hot cocoa. Orange and chocolate are great friends.
Flavored Vodka – Vanilla Vodka, Whipped Cream Vodka, Orange vodka. If you love vodka there are many choices.
Frangelico – hazelnut flavored liqueur.
Patron XO Cafe – tequila-based coffee liqueur
Rumchata – rum based, creamy cinnamon liqueur
Brandy – will add a rich and dark flavor to the spiked hot chocolate.
Peanut Butter Whiskey – this is what we used in this recipe in the pictures. Made it almost taste like a peanut butter cup!
Chambord – a berry flavored liqueur like a chocolate covered fruit!
Chartreuse – a Apres Ski cocktail, we have a post all about that too!
Amaretto – an almond liqueur would go very well with any hot chocolate.
Cinnamon Schnapps – this cinnamon liqueur is sweet, but will add a lot of flavor!
Fireball Whiskey – a sweet cinnamon whiskey.
How to Make Spiked Hot Chocolate
Once you have decided your base liquor, making this spiked hot chocolate recipe is easy! Whisk together your ingredients on the stove, then add the alcohol in your mug, and done! Here are a few tips:
Multiply for a crowd – The recipe below makes 4 servings, so multiply for as many as you want. Or more than 1 mugful for yourself.
Cocoa Powder vs Chocolate Bar – When a recipe calls for cocoa powder instead of chocolate, or vice versa, there is a pretty good reason why. We used a chocolate bar in this recipe. See why below.

Cocoa powder – Cocoa powder has less cocoa butter in it, which can bring a stronger chocolate flavor. There may be "Dutch-process" on the cocoa label, which means it has been treated with alkali to decrease sharpness and increase pH. You can use it to make spiked hot chocolate, just adjust milk and sugar amounts, and mix really well to keep it from becoming clumpy and grainy.
Chocolate Bar. This choice has a higher ratio of cocoa butter to cocoa solids. Usually solid chocolate often brings a smoother and creamier texture, which is why we chose it for this spiked hot chocolate. We chose a dark 65% bar, which gave the hot chocolate a bit of bitterness, but went well with the alcohol. 80% can be used as well, but it will be more bitter.

How much alcohol do you add to spiked hot chocolate? We usually add 2 ounces of alcohol to every 6-8 ounces of hot chocolate. You can change that amount up, depending on the strength or sweetness of the alcohol used. You can always start with a lesser amount and add more if needed to make your perfect spiked hot chocolate!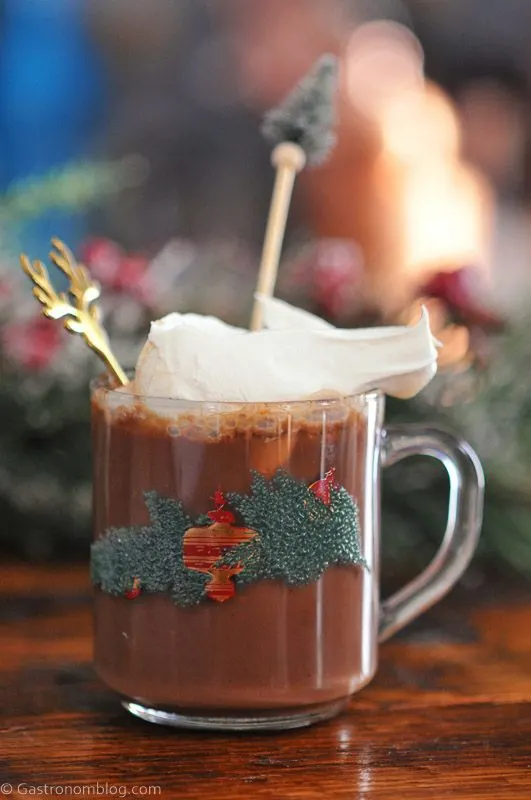 Garnish Your Spiked Hot Chocolate
Marshmallows – always a fun topping, and adds a bit of kid like whimsy.
Whipped Cream – A classic for a reason. Go the extra mile and make it homemade!
Shaved Chocolate – Grate some of that extra chocolate bar on top of your whipped cream.
Crushed Peppermint – This topper is perfect, especially if you've spiked your drink with peppermint schnapps or Baileys. A whole candy cane can be fun, too. Or sprinkled on top of that homemade whipped cream.
Caramel or Chocolate Syrup – A drizzle of syrup can be fun!
Cinnamon – A sprinkle of ground cinnamon adds lots of flavor and is great with chocolate. A whole cinnamon stick if fun, too!
Coarse Sea Salt – Chocolate and salt are sure friends, and enhances flavor while also taking a bit of sweetness away.
Chocolate Chips – many varieties are available, but we lean toward mini chocolate chips, toffee bits or peppermint chips.
Oreo Cookies – crushed cookies make a great way to rim the glass, or sprinkled on top.
Sprinkles – especially if colored, makes for a fun dash on the top of the hot chocolate.
Pirouette Cookies – if you need a snack, these are great!
More Hot Alcoholic Cocktails
When winter rolls around, warm cocktails are what we are drinking! Here are some of our favorite hot alcoholic drinks:
Cheers!
Also, don't forget to follow us on Instagram and tag #gastronomcocktails so we can see all the wonderful recipes YOU recreate from this site!
You can also subscribe to our newsletter so you never miss a delicious recipe again!
Like this recipe? Try these below, too!
Chocolate Covered Cherry Cocktail
White Chocolate Gimlet
Other Warm Cocktail Recipes
Yield:

4
Spiked Hot Chocolate Recipe
A customizable and fun hot chocolate recipe perfect for warming up with. This spiked hot chocolate has endless flavor possbilities depending on your choice of chocolate, milk and alcohol! Make one asap!
Ingredients
3 cups whole milk
8 ounce chocolate bar, we used a 70% cocoa bar
3 Tablespoons sugar or Demerara Sugar
pinch of salt
8 ounces of your choice of liquor
Instructions
Warm the milk in a medium saucepan over medium heat. Warm until just steaming. Whisk in the chocolate until melted.
Bring to a simmer, don't let it boil over. Whisk constantly for 3-5 minutes until the mixture thickens slightly.
Remove from heat and add sugar and salt. Stir until mixed and sugar melted.
Divide liquor between 4 mugs and then top with chocolate mix. Top with your choice of garnish.
Cheers!
Recommended Products
As an Amazon Associate and member of other affiliate programs, I earn from qualifying purchases.
Nutrition Information:
Yield:
4
Serving Size:
6 ounces
Amount Per Serving:
Calories:

613
Total Fat:

22.9g
Saturated Fat:

15.3g
Cholesterol:

31mg
Sodium:

163mg
Carbohydrates:

66.8g
Fiber:

1.9g
Sugar:

63.3g
Protein:

10.3g
Interested in stocking your own home bar? Make sure to see our favorites at our Amazon Store!
If you liked this post, don't forget to subscribe for new (and of course free) recipes by entering your email address on the side bar (and get all the recipes delivered to your inbox when we post), so you don't miss out on a thing. You can find us on Facebook, Instagram, and Pinterest!
Gastronomblog is a participant in the Amazon Services LLC Associates Program, an affiliate advertising program designed to provide a means for sites to earn advertising fees by advertising and linking to amazon.com