Last Updated on April 11, 2023 by The Noms
This simple homemade peach liqueur is easy to make by combining peaches with rum (or vodka) and sugar. Perfect for cocktails all year long!
If you haven't noticed, we like to make a lot of our own ingredients around here for our home bar. We make a lot of our own simple syrups, shrubs, infused liqueurs and mixers. Some of the previous liqueurs we have made are banana, salted caramel and caramel, and allspice dram. Fruit liqueurs are fun too, like infused peach brandy. So, make this homemade alcoholic beverage that is full of flavor!
This post contains affiliate links for products that we think you as readers might find useful, and we make commission off of these! For more details about our affiliates, click our Disclosure and Contacts Page.
Summer brings a bounty of fresh, ripe peaches, and if you have followed along around here, you would know that we have our own peach trees! They are white flesh heritage peaches brought over by my family from Germany, and we get a BOUNTY of them every year.
We literally give them away. Once we have eaten enough, made jam, froze some, and given them away, we are at a loss on what else to do with the rest.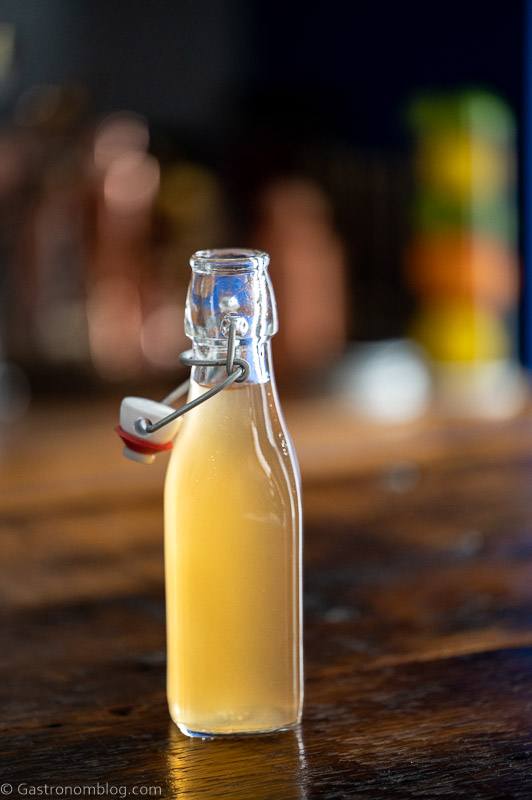 Last fall we knew we had to make some homemade peach liqueur so we could enjoy the flavor of fresh peaches all year long! You can use other things to give peach flavor in cocktails, like peach nectar, just a fresh peach, or lower-quality peach liqueur. But, we think this is the best alternative to just a fresh peach for delicious cocktails, and I know what I want to use in my chilled cocktail glass. (Although we love fresh peaches, they unfortunately don't last all year!)
What is Peach Liqueur?
Peach Liqueur is a fruit liqueur made by steeping peaches in whatever alcohol you want as the base (we give you 2 options here) and adding sugar to the mixture to make it a liqueur as opposed to an infused alcohol. This homemade peach liqueur doesn't have any of that artificial peach flavoring because of the fresh fruit that is used.
Is Peach Liqueur the Same as Peach Schnapps?
No. They are along the same lines, but not the same. Schnapps are fermented and distilled. Peach liqueur is fruit steeped in alcohol that has already been distilled. Make sure to read all about Peach Liqueur vs Peach Schnapps! Peach Schnapps drinks are tasty too, don't get us wrong!
Peach Liqueur Ingredients
Peaches – fresh is best, simply just chopped up and infusing in the liquor makes for a flavorful liqueur. Either white or yellow peaches work.
Vodka or Agricole Rhum – Both clear liquors, of the 2 we liked the rhum version the best.
Simple Syrup – regular granulated sugar is what we used to sweeten this peach liqueur. A cup of sugar is all that is needed for this sweet fruit liqueur.
Making the Homemade Peach Liqueur
Plan in advance for the recipe, as this takes time to steep and sit to develop flavor. Once made, this recipe keeps the best flavor and color for up to a year. After that, it is still safe to drink, but it may lose flavor and oxidize.
Taste the peach infusion a couple of times as it ages. You may be happy with a more subtle flavor and want to strain it ahead of the recommended 2 week time period. Strain the peaches out with either a mesh strainer or coffee filters.
You can use vodka or agricole rhum, as we did both recipes. We preferred the rhum, as it was slightly sweeter, but richer in flavor. The vodka really brings out the peach flavor, so if that is what you are wanting, either choice is a good one.
In the pictures, the lighter color bottle is the vodka, the more caramel colored one is the rhum. For the infusion, just leave it at room temperature.
Tips & Tricks
Base Liquor – Feel free to use other spirits in this recipe like gin or tequila. Go with the least "flavor" options so the flavor of real peaches shines through. A neutral alcohol would be the best choice.
Herbs or Spices – Play with the flavors by adding herbs or spices. A spiced peach liqueur would be lovely. Cinnamon sticks or star anise would be great spices, or herbal options could be mint or thyme. Feel free to add in some lemon zest or orange zest, too!
Sweetener – instead of granulated sugar, feel free to use your sweetener of choice. You can try honey, brown sugar or maple syrup.
What Cocktails to Use Peach Liqueur In?
There are so many – classic and brand new cocktails that would work well using this homemade peach liqueur. Some great suggestions could be a Peach Daiquiri, Fuzzy Navel or a Peach Fizz. We think a lot of drinks that call for triple sec can be replaced with this homemade peach liqueur, as they are both liqueurs, but one is citrus zest-like and the other, peach. So, keep that in mind if you want to make a fun new recipe. Peach Margarita anyone?
This summer in a bottle liqueur makes for a wonderful gift as well! Make our Strawberry Vodka, or fruit liqueurs like our Banana Liqueur or Strawberry Infused Campari, too! Or, make some Vodka Gummy Bears as treats!
Cheers!
Also, don't forget to follow us on Instagram and tag #gastronomcocktails so we can see all the wonderful recipes YOU recreate from this site!
You can also subscribe to our newsletter so you never miss a delicious recipe again!
Like this recipe? Try these below, too!
Banana Liqueur
Peach Zombie Cocktail
Other Homemade Liqueurs
Yield:

2 cups
Homemade Peach Liqueur
Total Time:
14 days
20 minutes
This peach liqueur recipe is easy and so full of flavor. Great for cocktails all year long.
Ingredients
1.5 cups peaches, diced
2 cups vodka or agricole rhum
1 cup sugar
1 cup water
Instructions
Add peaches to a mason jar, top with rhum.
Let infuse for 2 weeks, testing every so often to check the flavor.
When finished to your liking, strain out the peaches.
Make your simple syrup with the cup of sugar and cup of water. Add it to the peach mixture and let sit for a few more days.
Can be kept for up to a year.
Cheers!
Notes
We made both an agricole rhum version and a vodka version of the recipe and definitely prefered the rhum. But, do what you like for flavor!
Recommended Products
As an Amazon Associate and member of other affiliate programs, I earn from qualifying purchases.
Nutrition Information:
Yield:
16
Serving Size:
1 ounce
Amount Per Serving:
Calories:

117
Carbohydrates:

13.8g
Fiber:

.2g
Sugar:

13.8g
Protein:

.1g
PIN THIS HOMEMADE PEACH LIQUEUR RECIPE FOR LATER!
Interested in stocking your own home bar? Make sure to see our favorites at our Amazon Store!
If you liked this post, don't forget to subscribe for new (and of course free) recipes by entering your email address on the side bar (and get all the recipes delivered to your inbox when we post), so you don't miss out on a thing. You can find us on Facebook, Instagram, Pinterest and Twitter!
Gastronomblog is a participant in the Amazon Services LLC Associates Program, an affiliate advertising program designed to provide a means for sites to earn advertising fees by advertising and linking to amazon.com