Last Updated on September 17, 2023 by Leah Hall
This Easter Mimosa is fun for spring parties and perfect for entertaining. Just make the orange juice ice cubes ahead of time, and you have an easy brunch cocktail perfect for a crowd!
If we are hosting a special occasion brunch, like for Easter, you can assume that mimosas will be on the menu. Fresh and festive, they are the perfect bubbly way to celebrate everything from Mother's Day to New Years. With Easter coming up, we thought it would be a great time to share our easy twist on the classic mimosa recipe. Plan on making them for an Easter brunch, Saturday morning or family holiday get-together, we hope you enjoy this easy recipe!
We have a great Carrot Ginger Mimosa that is perfect for Easter brunch, too!
A mimosa is a kind of plant that has yellow flowers. Obviously, the color of a mimosa, usually made with equal parts orange juice and sparkling wine, is said to share the flowers' color, so the name came from the color!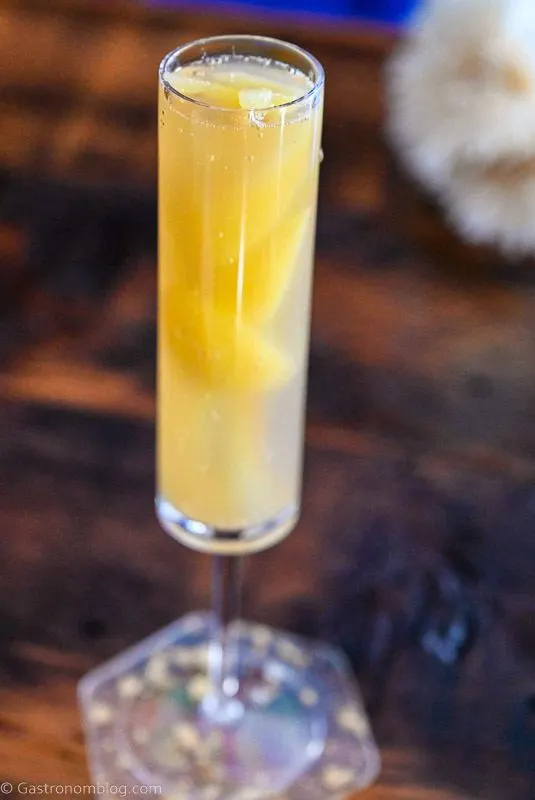 What is a Mimosa?
A mimosa is a classic and very simple beverage made with orange juice and champagne. It is a popular sip that has many different variations, flavors and colors, and can be created to fit your flavor profile and wants.
A classic mimosa is best ice cold with freshly squeezed orange juice! It's a great brunch cocktail. Make a pitcher of these for a crowd for Christmas, housewarming parties, wedding showers, or a girls weekend!
We used these fun Easter ice cubes trays, these fun shapes are a great way to impress your guests with very little effort.
The beauty of frozen juice is that it will keep the cocktail chilled without watering it down with regular ice. You can also add more sparkling wine as the ice cubes melt and flavor your drink. So, even if you only take a whiff of OJ in a mimosa, you can try to keep the wine-to-juice amount just the way you like it.
How to Make Easter Mimosas
This recipe is hardly complicated by any means. But we do have a few suggestions on how to serve this cocktail.
Tips for easy presentation and serving:
Ice Prep – make the ice the day before, or a few days before. Pop out of molds and keep in a freezer bag for easy storage. When ready to serve make sure to let them stay in the freezer as long as possible. These are small ice cubes, they melt quickly. Now, the mimosa will stay perfectly cold without getting diluted!
Glasses – serve in champagne flutes or wine glasses. Bubbles taste better when they are in flutes, but a wine glass would work just fine. Stemmed or stemless is fine. Champagne flutes are designed to preserve carbonation, using them will theoretically make your drinks extra bubbly. You can also serve in a coupe if you want to – and lay the ice on the bottom of the coupe and pour the champagne over the top.
Chill glasses – If you want your drink as cold as possible, and keep your cute ice cubes as long as possible, you may want to chill your glass in the freezer before hand.
Sparkling Wine for Easter Mimosas
Champagne is the usual option, but Prosecco or Cava also work well.
Honestly, the price and quality of the sparkling wine are less important for a mimosa than if you are drinking the wine by itself. Diluting the wine with orange juice makes it moot, so get something that works in your price point. Prosecco will be the sweetest option, so keep that in mind.
Plan for 6-8 mimosas from one bottle of sparkling wine.
Easter Mimosa Ingredients
Orange Juice – A classic mimosa using fresh squeezed orange juice will make a mimosa a real treat. Or in the words of Ina Garten, store-bought is fine. Squeezed is your best option, we would steer away from concentrate, even for making ice cubes in this case. Pulp-free orange juice is the best option for these Easter mimosas as the pulp can make for an unappetizing mimosa as the ice cubes melt.
Sparkling Wine – We like brut champagne the best for mimosas because it is not overly sweet and pairs well with sweet orange juice. Prosecco or cava are good options, especially if you prefer a sweeter drink.
Tips & Tricks
A classic is a classic! But, even in this case, we are switching it up by using orange juice ice cubes! Here are some suggestions if you are wanting a little variety with your mimosa!
Other Fruit Juice Mimosas – cranberry, mango, Grapefruit, strawberry, pineapple, blood orange, apple cider or pomegranate! You can also do a combination of any of these juices, or add some to orange juice ice cubes – such as orange juice and strawberry puree, or cranberry and pineapple juice for a tropical sip!
Non Alcoholic – Instead of the sparkling wine, use flavored sparkling water, sparkling cider or sparkling grape juice!
Garnishes – Fresh berries, pineapple wedge, cranberries, mango slice, grapefruit or orange slide, lemon peel or fresh herbs all work well. Feel free to add some edible glitter to this sip too, makes it fancy and sparkly!
Prep Ingredients – make sure the sparkling wine is chilled before serving. And, prep the ice cubes a day or 2 in advance. Feel free to use store-bought pulp free orange juice, or squeeze your own, just strain out the pulp.
Flavor Additions – this could be another alcohol like Grand Marnier, orange bitters or Chambord. Or, fruit purees added to the ice cubes – pear puree, peach puree or apple puree.
If you want another great brunch cocktail, try our Carrot Cake White Russian, too! Or, if you need some Champagne Drinks for Easter, we have those too! If you want to, or need to keep your champagne fresh, use a champagne saver!
Cheers!
Also, don't forget to follow us on Instagram and tag #gastronomcocktails so we can see all the wonderful recipes YOU recreate from this site!
You can also subscribe to our weekly newsletter so you never miss a delicious recipe again!
Like this post? Check these out below, too!
Cocktails for Mother's Day Brunch
Hilda & Jesse – San Francisco, California
More Brunch Cocktails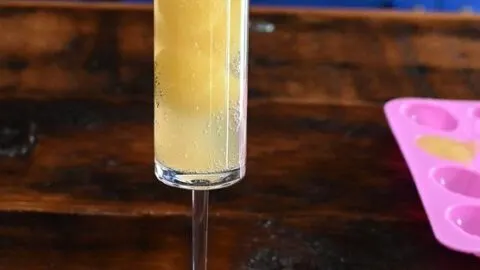 Yield:

4
Easter Mimosa Recipe
These easy and cold Easter Mimosas are perfect for Easter brunch, made with orange juice ice cubes and sparkling wine!
Ingredients
Orange Juice Ice Cubes
Sparkling Wine or Champagne
Orange Juice Ice Cubes
Instructions
Orange Juice Ice Cubes
Prep your orange juice ice cubes at least the day before. Using a fun Easter ice mold (linked below) for fun ice shapes, fill with orange juice. Plan at least 3-4 ice cubes per person.
Place in the freezer until frozen, at least 4 hours.
If making ahead of time, or more than the tray holds, store in a freezer bag until ready to use.
Easter Mimosas
1. Place orange juice ice cubes in champagne flute. Top with sparkling wine or champagne.
2. Cheers!
Notes
Make some other flavor combinations if desired. Ideas located above in "Tips & Tricks".
Recommended Products
As an Amazon Associate and member of other affiliate programs, I earn from qualifying purchases.
Nutrition Information:
Yield:
4
Serving Size:
6 ounces
Amount Per Serving:
Calories:

116
Total Fat:

.1g
Carbohydrates:

5.7g
Fiber:

.1g
Sugar:

3.6g
Protein:

.3g
Interested in stocking your own home bar? Make sure to see our favorites at our Amazon Store!
If you liked this post, don't forget to subscribe for new (and of course free) recipes by entering your email address on the side bar (and get all the recipes delivered to your inbox when we post), so you don't miss out on a thing. You can find us on Facebook, Instagram, and Pinterest!
Gastronomblog is a participant in the Amazon Services LLC Associates Program, an affiliate advertising program designed to provide a means for sites to earn advertising fees by advertising and linking to amazon.com