Last Updated on June 6, 2023 by Leah Hall
A Savory treat, this is a great savory buttered popcorn snack!

When you have two very busy boys in your house, you quickly discover that you have insatiable little eating machines that need constant snacks to keep them fueled. We love giving them fruits and veggies, but one of the things our eating machines seem to love the most is popcorn.
Kettle corn, and caramel, cheese or buttered, they can demolish a full bag of microwave popcorn in one fell swoop, often leaving slim pickings for the adults (they even raid our bowls sometimes!)
Popcorn
Evidently our children's popcorn eating ability is passed down from Mrs. Nom who grew up eating homemade popcorn for dinner at least once a week. This post contains sponsored content brought to you by UncommonGoods. We received free products to review, but all opinions presented here are 100% our own. For further information please see our Disclaimer page.
While the microwave popcorn is pretty good and you really can't beat the convenience factor, for Leah it just doesn't measure up to that homemade flavor of her youth. Her parents would break out the old pan, add in some oil and pour in some popcorn kernels, adding in some real butter and a pinch of salt. Five to ten minutes later, they would have homemade popcorn, hot and buttery with little crunchy bits of salt crystals on the fluffy light corn.
Wanting something similar to that homemade popcorn, but wanting the convenience of the microwave popcorn bags, we started to look around for something that might find that middle ground between easy and deliciousness.
When we had the chance to review some items from UncommonGood's kitchen tools (see our post about some of the cool tools and food they offer here), we saw a popcorn popper that promised to bring that homemade pan popped style popcorn with the ease of a microwave bag. We of course had to try it, and when it arrived, this microwave popcorn popper was the first tool that we opened and used!
What Ingredients are Needed for the Popcorn?
Salt and Pepper
Popcorn
Garlic Powder
Paprika
Parmesan Cheese
Chives
Salted Butter
The microwave popcorn popper is a glass, plastic and silicone bubble that you can dump fresh popcorn kernels into, add some butter onto the top lid and place into the microwave. Around two and a half minutes later, a bowl full of popcorn is hot and ready with the butter already mixed in! The flavor was pretty close to the homemade style Leah remembered, and it took less than three minutes to make!
Of course our kids were fascinated as they could watch the bowl through the microwave window and see the kernels popping, and it wasn't long until they were wanting "popcorn from the popper!"
We wanted to keep some for ourselves, so once we made them some buttered popcorn, we decided to come up with a quick way to dress the popcorn up and make it a savory treat that could be used at a cocktail party, or a quick afternoon snack. Adding some fresh chopped chives from our garden, a dash of garlic powder, Parmesan cheese, paprika and a drizzle of salted butter, and we knew we had ourselves a savory winning snack that adults would love (ironically, our little eating machines liked this version of popcorn too, but they have strange tastes for children!)
Perfect for pan style popcorn or popcorn from a microwave popper, this recipe can also dress up plain boring popcorn from a store with just a little work. Give this recipe a try and let us know what you think in the comments below!
Also, don't forget to follow us on Instagram and tag #gastronomcocktails so we can see all the wonderful recipes YOU recreate from this site!
You can also subscribe to our newsletter so you never miss a delicious recipe again!
Like this recipe? Try these below, too!
Blueberry Pineapple Mojito
Sweet Potato Guacamole Bacon Bites
FLAVORED POPCORN RECIPES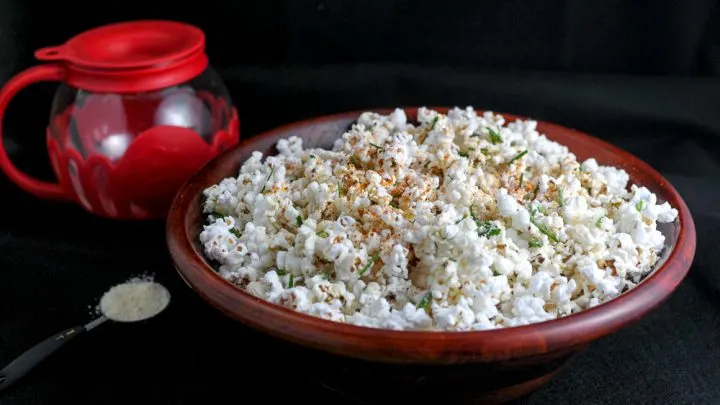 Yield:

6
Buttered Popcorn with Parmesan and Chives
Parmesan Chive Popcorn topped with butter and salt. A perfect movie snack!
Ingredients
Buttered Herbed Popcorn
3 cups popcorn
4 Tablespoons salted butter
3 Tablespoons finely chopped chives
1 Tablespoon finely grated Parmesan cheese
1 teaspoon garlic powder
1 teaspoon smoked paprika
salt and pepper to taste
Instructions
Make popcorn as you usually do - on the stove or in the microwave.
Top with parmesan cheese, garlic powder, paprika, chives and salt and pepper to taste.
Pour melted butter over the top.
Toss it all in a big bowl.
Enjoy!
Nutrition Information:
Yield:
6
Serving Size:
1
Amount Per Serving:
Calories:

91
Total Fat:

8.2g
Saturated Fat:

5.1g
Trans Fat:

0g
Unsaturated Fat:

0g
Cholesterol:

21mg
Sodium:

69mg
Carbohydrates:

3.7g
Fiber:

0.8g
Sugar:

0.2g
Protein:

1.1g
Interested in stocking your own home bar? Make sure to see our favorites at our Amazon Store!
If you liked this post, don't forget to subscribe for new (and of course free) recipes by entering your email address on the side bar (and get all the recipes delivered to your inbox when we post), so you don't miss out on a thing. You can find us on Facebook, Instagram, and Pinterest!
Gastronomblog is a participant in the Amazon Services LLC Associates Program, an affiliate advertising program designed to provide a means for sites to earn advertising fees by advertising and linking to amazon.com