Last Updated on November 3, 2023 by Leah Hall
What a better way to warm up than with cinnamon rolls from scratch with bacon AND bourbon! Yeah, I said bacon cinnamon rolls!
When the weather starts turning cooler and the leaves start changing colors, we get a hankering for some fresh baked goods! Here in Nebraska, one of the most popular baked goods is a cinnamon roll! And while a good cinnamon roll is a glorious thing, what makes anything better?
How about adding a little bacon and bourbon to make these cinnamon rolls into the ultimate brunch bakery item!
This post contains affiliate links for products that we think you as readers might find useful, and we make commission off of these! For more details about our affiliates, click our Disclosure and Contacts Page.
Bacon Cinnamon Rolls
We love good cinnamon rolls from scratch, the sweet spicy cinnamon and airy doughy bread a delight to enjoy with a good cup of coffee or a mimosa at brunch. We have even been known to indulge our penchant for a good cinnamon roll while wandering around the Omaha Farmer's Market!
The other day we were planning a little brunch get together for some of our friends and were trying to do a fun little menu.
We were thinking about what dishes we were could make, when our boys mentioned that they thought we should make some cinnamon rolls and bacon (in the words of our youngest "We need bacon! Its the candy of meats!) This combination must have tickled our brains because all of a sudden we both blurted out bacon cinnamon rolls!
This sounded like a delightful treat, as salty and sweet makes for great combination.
Bourbon Bacon Cinnamon Rolls
Of course being known as cocktail bloggers (especially among our friends) we have a little bit of a reputation to uphold when it comes to what we serve! We do like serving some boozy food, so since we had already made the decision to add bacon to our cinnamon rolls, we figured why not add another layer of flavor that plays well with both bacon and cinnamon, bourbon!
Two of the flavors we are always talking about when we talk about when we make bourbon cocktails are the warm baking spices like cinnamon, and the toasted caramel sweetness that baked goods get, so bourbon seemed like a natural fit with cinnamon rolls from scratch!
We started out with a classic sweet dough which gave us two advantages, the first being it doesn't require yeast to proof, which leads to the second advantage, we can add in the bourbon into the dough without killing the yeast! With bourbon integrated right into the dough, you will get a rich full flavor of the bourbon but the alcohol all cooks off during the baking process.
The bourbon adds a nice extra hint of caramel and sweetness to the dough.
Bacon, How can You Say No?
We next cooked up some bacon, getting it nice a crisp. Once cooked, we crumbled the bacon into small pieces so we could layer it into the rolls along with the cinnamon, spice and sugar mixture. The bacon pieces get rolled into the dough along with the spice mix and becomes a happy bits of candied bacon after the rolls are baked.
To top the rolls, we wanted a little stronger bit of bourbon flavor, so we added bourbon to the classic cream cheese icing. Adding bourbon to the icing makes these a definite adult take on the classic cream cheese frosting, as unlike the rolls where the booze bakes out, the icing definitely keeps all the alcohol!
What Ingredients are Needed for the Bourbon Bacon Cinnamon Rolls?
Filling

Nutmeg
Brown Sugar
Sugar
Bacon
Cinnamon
Butter
Salt
Cloves

Rolls

Baking Soda
Buttermilk
Flour
Butter
Baking Powder
Salt
Bourbon
Sugar

Icing

Buttermilk
Cream Cheese
Powdered Sugar
Bourbon
Cinnamon
We liked the way the bourbon makes the icing a little less sweet than the plain icing, not to mention added a great bourbon smell to the icing. A final sprinkle of bacon crumbles on top of the icing is the perfect final touch to these delicious Bourbon Bacon Cinnamon Rolls from scratch!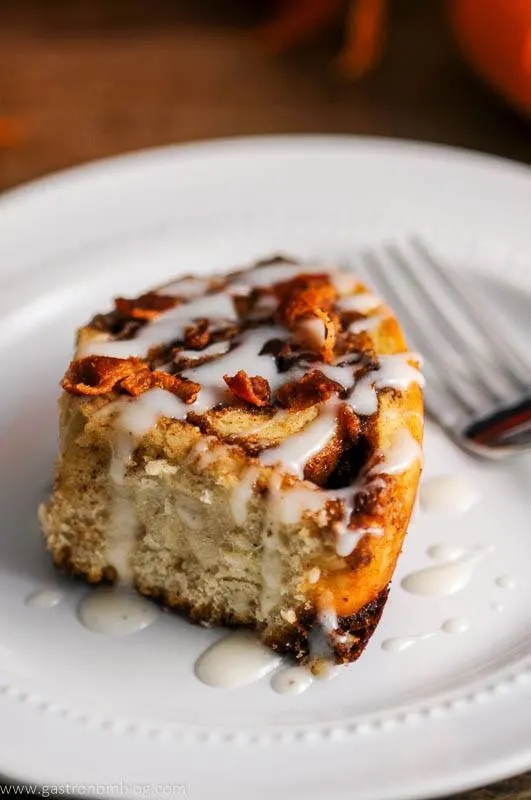 If You Are Looking for More Breakfast, Try These!
We unveiled the Bourbon Bacon Cinnamon Rolls from scratch at our brunch with friends and they were a huge hit! Want a great brunch cocktail to go with it? Try our Spicy Bloody Mary!
Cheers!
Also, don't forget to follow us on Instagram and tag #gastronomcocktails so we can see all the wonderful recipes YOU recreate from this site!
You can also subscribe to our newsletter so you never miss a delicious recipe again!
Like this recipe? Try these below, too!
Sweet Potato Guacamole Bacon Bites
Bacon and Blue Cheese Flatbreads
Other Boozy Sweet Bread Recipes
Bourbon Bacon Cinnamon Rolls
Bourbon and bacon in cinnamon rolls? Yes please, makes for a fabulous breakfast or brunch.
Ingredients
Bourbon Bacon Cinnamon Rolls
3 Tablespoons sugar
2 Tablespoons bourbon
1/2 teaspoon salt
1 teaspoon baking powder
3 cups flour
6 Tbsp unsalted butter, melted
1 cup buttermilk
1/2 teaspoon baking soda
For the Icing
2 Tablespoon buttermilk
1 teaspoon bourbon
1/4 teaspoon ground cinnamon
2 Tablespoon cream cheese, room temperature
1 cup powdered sugar
For the Filling
1 1/2 tsp ground cinnamon
1/2 cup packed brown sugar
3 Tablespoon sugar
1/3 cup crumbled bacon
1/2 teaspoon ground nutmeg
1/4 teaspoon ground cloves
1 Tablespoon unsalted butter, melted
1/8 teaspoon salt
Instructions
For the Rolls
Preheat the oven to 425°.
Grease and flour a cast iron pan or 9 inch pie plate.
In a medium bowl combine flour, sugar, baking powder, baking soda and salt. Add in buttermilk, bourbon and 3 tablespoons melted butter. Stir until just combined.
Transfer to a floured surface and knead until dough is smooth. Add more flour as needed, so it's not overly sticky.
Flatten the dough into a rectangle, about 12x18 inches. Brush on 2 tablespoons of melted butter.
Dump filling onto dough and spread evenly, leaving about 1/2 inch border around the edge. Press the filling down a bit so it sticks. Place about 1/4 cup bacon crumbles on top of filling. Set aside the rest of the bacon.
Starting on the long side of the dough, start to roll up, pressing as you go, to create a tightly rolled log. Pinch the seam closed and lay seam side down. Cut into 9-10 slices, placing in pan as you go.
Brush rolls with remaining 1 tablespoon of melted butter. Bake for 20-25 minutes or until golden brown.
When slightly warm, top with icing and remaining bacon. Enjoy!
For the Filling
Combine all dry ingredients, except bacon in a small bowl.
Add in butter and mix with a fork until it resembles wet sand.
For the Icing
In a medium bowl, beat the cream cheese until smooth, adding sugar and nutmeg.
Add buttermilk and mix until well combined.
Stir in bourbon.
If it's too runny, add in more sugar if needed. If too thick, add in more buttermilk or bourbon (cause, why not?)
Recommended Products
As an Amazon Associate and member of other affiliate programs, I earn from qualifying purchases.
Nutrition Information:
Yield:
10
Serving Size:
1
Amount Per Serving:
Calories:

381
Total Fat:

12.6g
Saturated Fat:

6.8g
Trans Fat:

0g
Unsaturated Fat:

0g
Cholesterol:

33mg
Sodium:

569mg
Carbohydrates:

57.1g
Fiber:

1.3g
Sugar:

27.5g
Protein:

7.9g
Interested in stocking your own home bar? Make sure to see our favorites at our Amazon Store!
If you liked this post, don't forget to subscribe for new (and of course free) recipes by entering your email address on the side bar (and get all the recipes delivered to your inbox when we post), so you don't miss out on a thing. You can find us on Facebook, Instagram, and Pinterest!
Gastronomblog is a participant in the Amazon Services LLC Associates Program, an affiliate advertising program designed to provide a means for sites to earn advertising fees by advertising and linking to amazon.com