Last Updated on June 12, 2023 by The Noms
The tartness of fresh blood orange juice combines with the bite of bourbon in this lovely Blood Orange Whiskey Sour, perfect for citrus season with fresh fruit!
We come upon blood oranges at the grocery store usually in January, and they will disappear until next winter so time is of the essence with Blood Orange cocktails! Most blood oranges are in season from December to May, (we in Omaha usually only see them January-March) so there is still a bit of time left to make these cocktails.
This post contains affiliate links for products that we think you as readers might find useful, and we make commission off of these! For more details about our affiliates, click our Disclosure and Contacts Page.
Blood oranges are in season and we are making the most of them this year with this Blood Orange Whiskey Sour! We LOVE Blood Orange cocktails, we have plenty on the site – Blood & Bourbon, Blood Orange Gin Sour, Blood Orange Sidecar, and then the classic Blood and Sand, but with blood orange juice!
Blood Oranges
The sweet and sour flavor of blood oranges when paired with bourbon whiskey, is a perfect combo! They are a gorgeous crimson color, but really are bitter. A bit of sweet like citrus in general, but is more bitter than a regular orange.
Blood oranges are one of our favorite fresh citrus cocktail mixers. We made these Blood Orange Whiskey Sours in honor of the citrus season that is perfect in winter. Great in a Blood Orange Gin Fizz, too!
Blood Orange Whiskey Sour
A whiskey sour is a classic cocktail with a mixture of sour and sweet. It contains three basic ingredients: whiskey, lemon juice, and sugar. It also can optionally contain an egg white, but we didn't use it in this recipe. Feel free to add an egg white if you would like, for the creamy texture.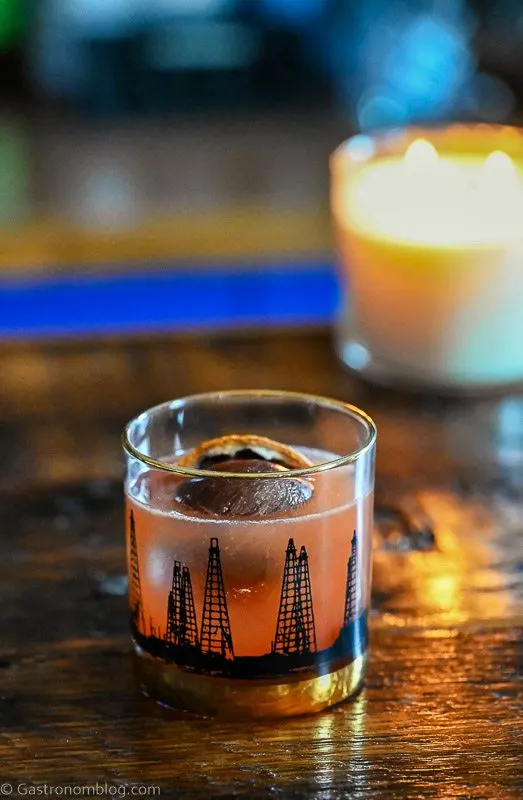 This Blood Orange Whiskey Sour is an easy cocktail to make, other than fresh squeezing that blood orange juice, and it has lovely flavors that are both sweet and sour together.
The blood orange juice brings a balanced citrus flavor that enhances the tart lemon juice, and together with the bourbon, this makes for a great winter sip!
Whiskey Sour
Whiskey and orange pair really well together, always have. We prefer our whiskey sours are more on the sour side of things, and the use of blood orange with lemon juice worked well here.
But, feel free to adjust the sweetness to your preference. We used .50 ounce simple syrup, but if your blood oranges are tending sweet, or you have a sweeter bourbon, then feel free to back off of that. In opposition, if you need it a little sweeter, add a little more syrup.
Can I Use Regular Oranges instead of Blood Oranges?
Yes, this whiskey sour will still taste delicious with regular oranges, but you may have to adjust the sweetness level, as well as the color will be more orange.
Whiskey Sour Tips
Blood Orange Juice: Each blood orange will give you 2-3 oz juice. If you use a juicer it will help to get the most juice.
Adjust the Sweetness: feel free to use .25 oz rich simple syrup, or more or less .50 ounce regular simple syrup per how sweet your want it.
Blood Orange Whiskey Sour Ingredients
Simple Syrup – Our homemade simple syrup is the perfect way to add sweetness to cocktails, it takes less time to dissolve than sugar.
Blood Orange Juice – Fresh squeezed blood orange juice is preferred for this recipe. It can be find bottled, but this can be difficult.
Bourbon – Bourbon tends to be sweeter and mild and pairs with the other flavors perfectly in this Blood Orange Whiskey Sour.
Lemon Juice – makes this even more a sour, fresh squeezed lemon juice
Cheers!
Also, don't forget to follow us on Instagram and tag #gastronomcocktails so we can see all the wonderful recipes YOU recreate from this site!
You can also subscribe to our newsletter so you never miss a delicious recipe again!
Like this recipe? Try these below, too!
Cherry Vanilla Whiskey Sour
Grapefruit Bourbon Sour
Other Whiskey Sour Cocktails
Yield:

1
Blood Orange Whiskey Sour
This Blood Orange Whiskey Sour is super easy to make with 4 ingredients, and full of great flavor and color!
Ingredients
2 ounces bourbon
1 ounce blood orange juice
.50 ounce lemon juice
Instructions
Combine all ingredients in a shaker with ice.
Shake and strain, pour over ice in a rocks glass!
Cheers!
Recommended Products
As an Amazon Associate and member of other affiliate programs, I earn from qualifying purchases.
Nutrition Information:
Yield:
1
Serving Size:
4 ounces
Amount Per Serving:
Calories:

192
Total Fat:

.2g
Saturated Fat:

.1g
Sodium:

14mg
Carbohydrates:

15.1g
Fiber:

.1g
Sugar:

2.7g
Protein:

.3g
Interested in stocking your own home bar? Make sure to see our favorites at our Amazon Store!
If you liked this post, don't forget to subscribe for new (and of course free) recipes by entering your email address on the side bar (and get all the recipes delivered to your inbox when we post), so you don't miss out on a thing. You can find us on Facebook, Instagram, and Pinterest!
Gastronomblog is a participant in the Amazon Services LLC Associates Program, an affiliate advertising program designed to provide a means for sites to earn advertising fees by advertising and linking to amazon.com