A great combination of dessert and cocktail in one, a frozen strawberry daiquiri float on top of vanilla ice cream!
As frequent readers of our blog know, we are kind of obsessed with making lots of classic craft cocktails. Every now and then it is fun to wander away from the classics into something new, with this frozen daiquiri. One way to find something new is to see what you our readers are looking to drink this spring and summer and get some inspiration from that!
The other day we did a little poll on our Facebook page to see what our readers might want to see (you are following us on Facebook aren't you?) and posed a poll of some popular drinks that you readers might like to see us make!
This post contains affiliate links for products that we think you as readers might find useful, and we make commission off of these! For more details about our affiliates, click our Disclosure and Contacts Page.
Daiquiri Float
The people have spoken and it seems that a whole bunch of our readers are into daiquiris! The daiquiri is often considered one of the essential cocktails to know, a classic from the 1800's and a famous drink in popular culture over the many years since its invention!
It was originally conceived by an American who was living in Cuba in the years after the Spanish American war. It's quintessentially a tropical feeling cocktail, using lime juice, cane sugar and the most tropical of spirits, rum.
What is the History of the Daiquiri?
The original recipe is really simple, consisting of cane sugar and fresh lime juice and white rum. The tart lime and bold dark flavor from the cane sugar dominated the flavor of the original drink. They combined into a refreshing sweet tart drink that helped cut through the heat and humidity of Cuba's warm nights!
Gold Rimmed Coupes / Wooden Spoons / Jigger / Paper Straws
The daiquiri really didn't spread much further than the shores of Cuba until the 1920's and 1930's when a bartender at the Floridita in Havana added shaved ice and a blender to the equation and the frozen daiquiri was born! Perfectly cool and infinitely more summer sip-able than the original. The frozen daiquiri was the perfect respite from the sweltering Cuban heat.
It was at this point the Daiquiri was exposed to a much wider audience thanks to noted writer and drinker, Ernest Hemingway. Hemingway was known to haunt the rail at the Floridita where he often found drinking his take on the daiquiri. (The Papa Doble aka skip the sugar and double the rum!) and writing dispatches from Cuba.
Hemingway's fame and romantic vision of this tropical drink and America's growing obsession with all things tropical (see the Tiki craze of the 1950s and our take on Tiki) made this a drink popular at cocktail and pool parties alike!
What flavors did we want to Use in the Daiquiri?
Now that you know a little history, its time to mix it up a bit! We decided to combine two of our favorite things, cocktails and boozy desserts. So we then made our Strawberry Rhubarb Daiquiri Float! We love the combination of strawberry and rhubarb, and with both in season in the spring, it is the perfect time to combine these flavors into an delicious syrup.
Strawberry Rhubarb is a great combination of sweet and sour. This works really well with the sweet tart flavors of a daiquiri, adding a bright summery freshness to the daiquiri.
With the cocktail part of this taken care of, we need to bring in the dessert part! What also goes really well with strawberries? How about vanilla ice cream! We love strawberry rhubarb pie ala mode, so why not combine a strawberry rhubarb daiquiri with some vanilla ice cream?
We poured the Strawberry Rhubarb Daiquiri over a couple of scoops of ice cream, because why not? So we then made ourselves a "Strawberry Rhubarb Daiquiri Float!"
Perfect for sipping by the pool on a hot summer night, you really need to give the Strawberry Rhubarb Daiquiri Float a try. This combination is a real winner! The ice cream really pulls out the rum flavors and adds a cool creamy sweetness to the tart daiquiri making this a delicious boozy treat!
Cheers!
Like this recipe? Try these below, too!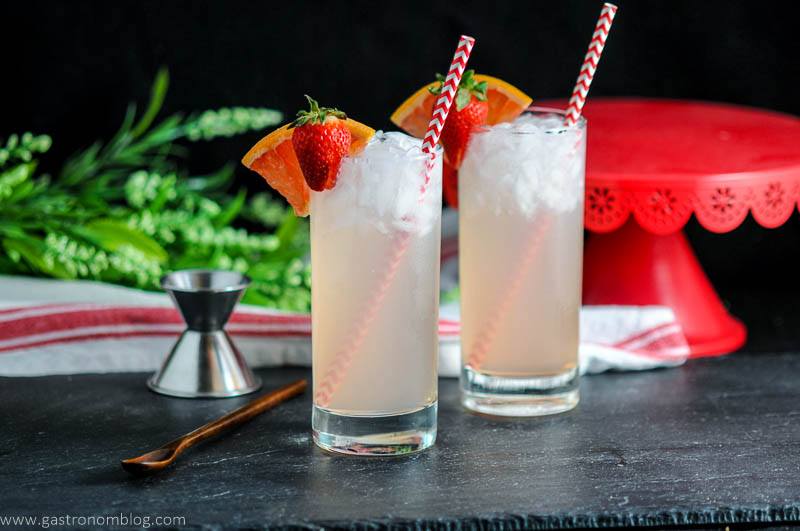 Other Frozen Daiquiri Recipes
Frozen Cherry Daiquiri Floats – Celebrating Sweets
Mango Sorbet Daiquiri Floats – A Beautiful Plate
Strawberry Daiquiri Floats – Eat Well 101
Frozen Banana Daiquiri – Restless Chipotle
Frozen Peach Basil Daiquiri – Southern Fatty
Yield:

1
Strawberry Rhubarb Daiquiri Float
A dessert and a cocktail all in one, this frozen daiquiri is perfect over vanilla ice cream.
Ingredients
For the Strawberry Rhubarb Daiquiri
1/2 cup ice, not needed if you use frozen strawberries
2 oz freshly squeezed lime juice
4 oz white rum
3 oz strawberry rhubarb syrup
2 cups strawberries, chopped
2 scoops vanilla ice cream per glass
Strawberry Rhubarb Syrup
1/2 cup strawberries, chopped
1 cup sugar
3/4 cup water
2-3 stalks rhubarb, chopped
Instructions
For the Cocktail
Place the strawberries, rum, lime juice, syrup and ice into a blender.
Blend until no big strawberry or ice chunks remain.
Place the ice cream into a large margarita glass or cocktail coupe.
Pour the daiquiri mix over the ice cream.
Serve.
For the Strawberry Rhubarb Syrup
Chop the strawberries and rhubarb into chunks.
Place into a small saucepan.
Pour sugar onto the strawberry and rhubarb chunks.
Add in the water.
Gently bring to a boil over low heat.
Allow to simmer for 5 minutes.
Allow to cool.
Strain through a fine mesh strainer to remove all seeds and any remaining fruit.
Store in a sealed glass container for up to 2 weeks in a refrigerator.
Recommended Products
As an Amazon Associate and member of other affiliate programs, I earn from qualifying purchases.
Nutrition Information:
Yield:
4
Serving Size:
1
Amount Per Serving:
Calories:

396
Total Fat:

17.9g
Saturated Fat:

11.1g
Trans Fat:

0g
Unsaturated Fat:

0g
Cholesterol:

98mg
Sodium:

67mg
Carbohydrates:

41g
Fiber:

1.5g
Sugar:

36.4g
Protein:

4.3g
Interested in stocking your own home bar? Make sure to see our favorites at our Amazon Store!
If you liked this recipe, don't forget to subscribe for new (and of course free) recipes by entering your email address on the side bar (and get all the recipes delivered to your inbox when we post), so you don't miss out on a thing. You can find us on Facebook, Instagram, Pinterest and Twitter!
Follow my blog with Bloglovin