A boozy version of the kid's classic Purple Cow Float!
There are many flavors that can take you right back to your childhood, be it that cookie your grandma made, your favorite candy, or a treat. One treat was the Purple Cow, a soda float made with vanilla ice cream and grape Nehi soda that was famous at soda fountains all across the Midwest.
What if we recaptured that childhood flavor but added a definite adult edge and made an Adult Purple Cow?
This post contains affiliate links for products that we think you as readers might find useful, and we make commission off of these! For more details about our affiliates, click our Disclosure and Contacts Page.
Luxardo Cherries / Highball Glasses / Paper Straws
We took a little road trip recently and at one of our stops we needed a little refreshment, so when we had the chance to hit an old fashioned soda fountain where they had all kinds of vintage sodas. One of those sodas was Nehi Grape, which is classic soda that has been around since the 1920's and was the choice of Radar O'Reilly in the show M*A*S*H*!

Drinking a Nehi Grape is like taking a trip back to your childhood, rolling down the sidewalk on your bike, watching fireflies on a hot summer night or spending the whole day outside with your friends! Nehi Grape tastes like you think the color purple might taste, unapologetically candy sweet and kind of artificial grape flavored, this soda tastes totally vintage like the glass bottles with the old fashioned letters that looks like something you might find in your grandma's icebox.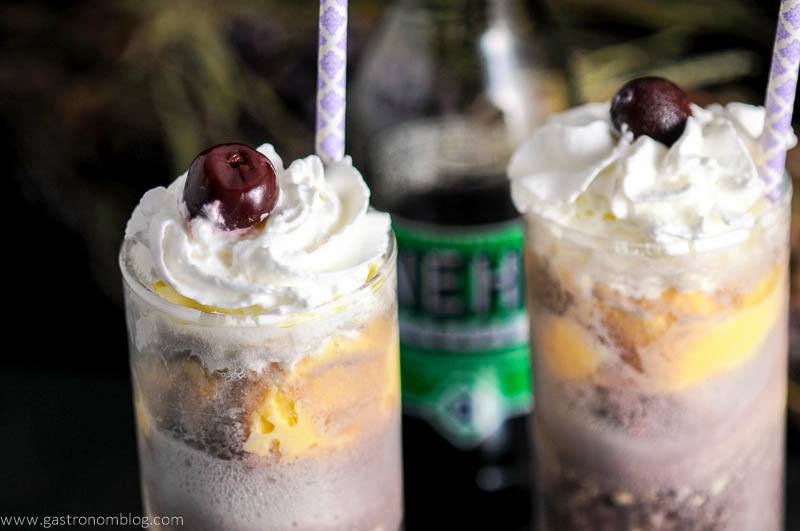 While this old fashioned soda might not have the most authentic natural flavor, it is really fantastic when mixed with vanilla ice cream to make a float. The sweet soda mixes with the creamy vanilla and makes a delicious lavender colored foam that tastes like a grape creamsicle known as the Purple Cow.
Being cocktail bloggers, it is only natural that we added a little boozy component to this creamy sweet treat (we love boozy desserts!). We decided not to mess with the classic flavor of the Purple Cow, so we decided to go with vodka, a spirit that is relatively unflavored.
The sweetness of the Nehi Grape helps cut any burn from the vodka that might have been present which makes this a prefect boozy float! Leave out the vodka and the kids can have the same drink as you!
We topped the whole float with some whipped cream and put a cherry on top (a brandied cherry of course!) to bring the whole treat together!
Cheers!
Like this recipe? Try these below, too!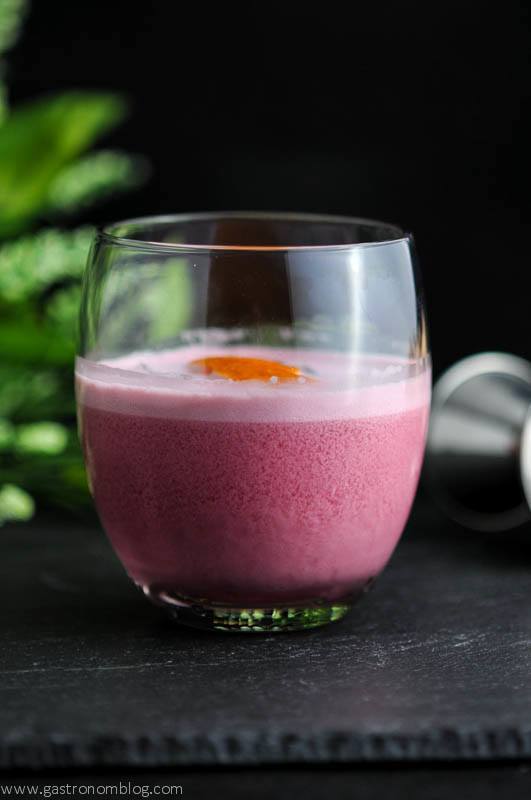 Other Adult Ice Cream Floats
Adult Root Beer Float – Cookie Rookie
Russian Root Beer Float – Onion Rings and Things
Kahlua Coke Float – Feast and West
Boozy Cheery Coke Floats – Cooking Is Messy
Champagne Floats – Eating Well
Recipe by www.gastronomblog.com
Interested in stocking your own home bar? Make sure to see our favorites at our Amazon Store!
If you liked this recipe, don't forget to subscribe for new (and of course free) recipes by entering your email address on the side bar (and get all the recipes delivered to your inbox when we post), so you don't miss out on a thing. You can find us on Facebook, Instagram, Pinterest and Twitter!