A campfire themed Mule topped with toasted marshmallows!
We recently spent a week up in Estes Park, Colorado enjoying a family vacation up in the beautiful Colorado Rocky Mountains and getting a chance to explore Rocky Mountain National Park. We spent many hours during the day hiking around the national park, but in the evenings we returned to our cabin and spent those hours checking out some of Estes Park's offerings.
Imagine our excitement when we found a local distillery's tasting room just down the block from our cabin, where we found a spirit that inspired today's cocktail, the Campfire Mule!
This post contains affiliate links for products that we think you as readers might find useful, and we make commission off of these! For more details about our affiliates, click our Disclosure and Contacts Page.
We stopped in to see the the folks at the Dancing Pines Distillery's tasting room where we got a chance to try some of their fine spirits. Dancing Pines started out distilling whiskeys and have expanded their selection to a number of artisinal spirits to include some fantastic liqueurs, one of which really caught our interest, the Brulee.
The Brulee is a caramel liqueur that is made using corn spirits (moonshine) and real caramel made in an old copper candy pot from the Jelly Belly factory in Denver.
The Brulee has a beautiful dark caramel color and it tastes just like a freshly torched creme brulee, the butter, cream and cane sugar used to make the caramel giving the liqueur a rich buttery caramel flavor.
When we were sampling the spirits, the Brulee immediately reminded both of us of one of our favorite campfire activities, roasting marshmallows by the campfire, which immediately got our brains thinking about how we could use some of the delicious fine spirits at home!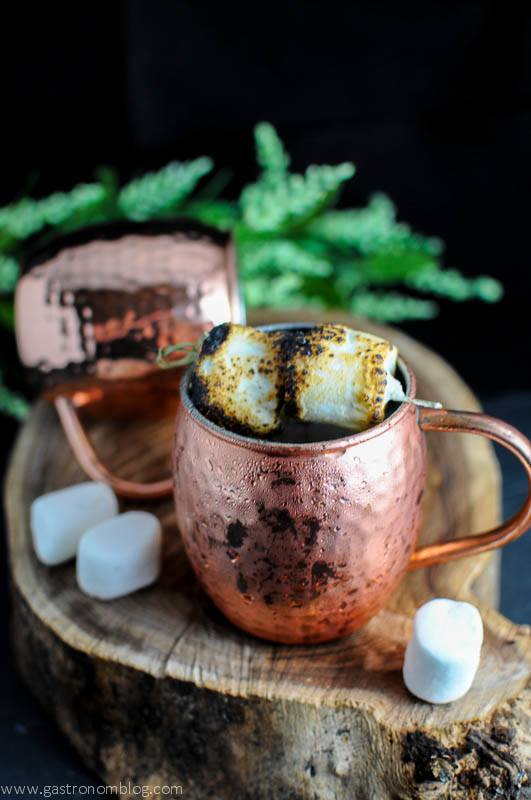 The Campfire Mule uses Dancing Pine Distillery's Brulee liqueur to give the Campfire Mule that delicious burnt sugar flavor that you get from toasting marshmallows over a campfire in a refreshing Moscow Mule variation. Starting out with the classic Moscow Mule recipe of vodka, lime and ginger beer, we substituted the Brulee liqueur for some of the vodka. We also trimmed the amount of lime down so that the toasted sugar flavors can come forward.
The crisp ginger beer gives a hint of a spicy bite and keeps the Campfire Mule from getting overly sweet while adding a bit of refreshing effervescent fizz. Toasted marshmallows are the ideal garnish, and gives a bit more toasted character to the Campfire Mule. Unlike some of our other mules like the Blueberry Cucumber Mule or our Caramel Apple Mule, this Mule is a bit more boozy as it gets its flavors from liqueurs rather than fresh fruit or flavored syrups, so the Campfire Mule can pack a real kick!
Cheers!
Like this recipe? Try these below, too!
Rosemary Grapefruit Moscow Mule
Grapefruit Smoked Salt London Mule
Other Mule Recipes
Gingerbread Mule – The Speckled Palate
Bourbon Moscow Mules – A Nerd Cooks
Spiced Pear Moscow Mule – Strawberry Blondie KItchen
Apple Cider Moscow Mule – Umami Girl
Pumpkin Moscow Mule – Cupcakes and Cutlery
Other Cocktails with Marshmallows
Marshmallow Vodka Cocktail – Nellie Bellie
Campfire Cocktail – Freckle and Fair
Toasted Smore Martini – The Cookie Rookie
White Russian with a Toasted Marshmallow – Sweet Paul
Roasted Marshmallow Coffee Cocktail Shakes – Marla Meridith
Recipe by www.gastronomblog.com
Interested in stocking your own home bar? Make sure to see our favorites at our Amazon Store!
If you liked this recipe, don't forget to subscribe for new (and of course free) recipes by entering your email address on the side bar (and get all the recipes delivered to your inbox when we post), so you don't miss out on a thing. You can find us on Facebook, Instagram, Pinterest and Twitter!