Last Updated on October 6, 2022 by The Noms
Chocolate tarts are perfect for Valentine's Day!
With Valentine's Day coming up, lots of us are thinking about what kind of plans we can come up with to make this romantic day a success! A lot of people make plans to go out to restaurants, but that can sometimes be a real pain. This is especially true when everyone else wants to go out on the same night! We like to avoid the crazy rush and just make our own romantic dinner at home, sort of a DIY dining experience!
One key part to making any romantic meal a success is a fantastic finish with a great dessert like our Chocolate Bourbon Tart!
This post contains sponsored content brought to you by Baker's Supermarkets. We received free product to review, but all opinions presented here are 100% our own. This post contains affiliate links for products that we think you as readers might find useful, and we make commission off of these! For more details about our affiliates, click our Disclosure and Contacts Page.
Chocolate Bourbon Tart
Chocolate is considered one of the great aphrodisiacs, so what better way to cap off a romantic dinner than with a little chocolate that might get you in the mood for love? While we could have gone out and bought some pre-made candies, making a chocolate dessert ourselves lets us make it the way we wanted!
Obviously our specialty is all things spirits related. Likewise we decided that a little bourbon infused chocolate dessert would be just the ticket to making the perfect end to a romantic dinner!
We headed out to our local Baker's Supermarket to shop for the ingredients we needed for this recipe. We grabbed some Kroger's brand chocolate chips, dipping chocolate, heavy cream and some vanilla wafers. While we were shopping, we noticed a great deal on some fresh strawberries when we used the Baker's Plus card. So then we decided that the sweet red fruit would be a perfect partner to the rich semi-sweet chocolate we were going to use for the tart.
We also figured making some classic chocolate covered strawberries would be nice sweet treat to go along side the Chocolate Bourbon Tart.
The recipe for the Chocolate Bourbon Tart results in a dish that looks elegant and refined, but is really quite simple to make. This makes it perfect for making it yourself at home! Starting out with a crust made from butter, sugar and ground up vanilla wafers, the crust is buttery and crispy with a nice vanilla flavor.
We ground up the vanilla wafers in a food processor to create a crumb crust and then pressed the crust into the tart pans.
What Chocolate Filling Did We Use?
For the filling, we used a combination of dark and semi-sweet chocolate to create a rich, complex chocolate filling. A good tart has to have a nice creamy custard, so we used a mixture of heavy cream and the chocolate chips to create a smooth custard filling.
The dark chocolate brings just enough bitterness to the tart to keep it from being overly sweet. Also it provides a perfect foil to the sweet tartness of the strawberries.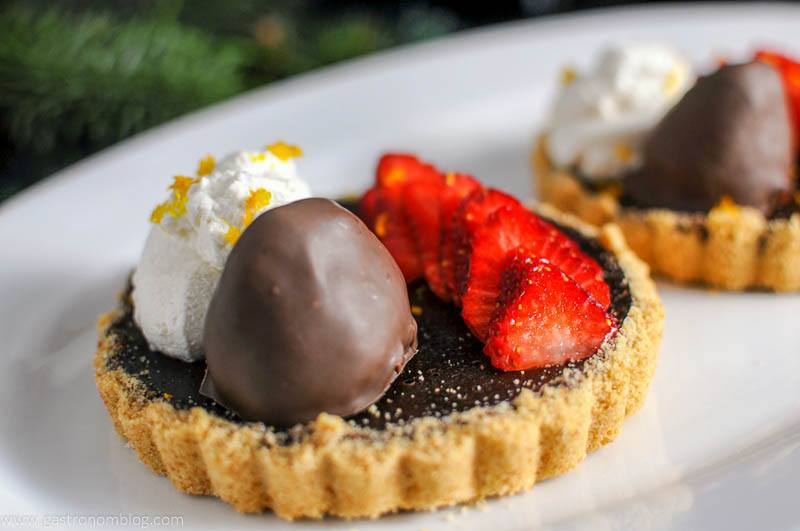 We wanted to add a special touch to the custard, so we went to our specialty and added a little splash of bourbon to the custard while it was cooking. The bourbon adds a nice undertone of vanilla and caramel that ties the chocolate and vanilla wafer crust together.
The bourbon also enhances the dark flavors of the chocolate and adding a nice perfume of whiskey to the tart.
What Ingredients are Needed for the Chocolate Bourbon Tart?
Crust

Sugar
Vanilla Wafers
Salt
Butter

Chocolate Bourbon Tart

Dark Chocolate
Semi Sweet Chocolate
Milk
Flour
Cream
Eggs
Salt
Bourbon
Fresh strawberries are another famous Valentine's day treat, so why not use them to add a sweet fruity edge to the tarts and a bright splash of color? We thinly sliced the strawberries to release the juices an open up the smell of fresh strawberry, plus they look a bit like little hearts, which is totally romantic!
We finished the tarts by topping them with the sliced strawberries, some vanilla infused whipped cream and one of those chocolate covered strawberries. Fresh orange zest adds a bright citrus perfume and a pretty bright splash of color to the tarts.
We hope you will embrace your inner DIY spirit and give our Chocolate Bourbon Tarts a try for your Valentine's Day dinner to finish your romantic dinner with a rich elegant dessert! Head over to your local Baker's Supermarkets and check out their great products which will help you bring your best to their table! Want a great cocktail to go with it? Try our Blood Orange Gin Sour!
If You are Looking for More Dessert, Try These!
Cheers!
Also, don't forget to follow us on Instagram and tag #gastronomcocktails so we can see all the wonderful recipes YOU recreate from this site!
You can also subscribe to our newsletter so you never miss a delicious recipe again!
Like this recipe? Try these below, too!
Dark Chocolate and Rum Vegan Ice Cream
Beer Brittle Chocolate Bark
Other Chocolate Boozy Tarts
Yield:

1
Chocolate Tarts - With Bourbon
A decadent chocolate bourbon dessert topped with strawberries, whipped cream and orange zest.
Ingredients
For the Crust
8 ounces vanilla wafers
2 ounces unsalted butter, melted
1 Tablespoon sugar
1/2 teaspoon salt
For the Tart
3/4 cup heavy cream
1/3 cup whole milk
5 ounces dark chocolate, coarsely chopped
4 ounces semi sweet chocolate, coarsely chopped
1 large egg
1 egg yolk
1 Tablespoon flour
2 Tablespoons bourbon
1/8 teaspoon salt
Instructions
For the Crust
Preheat the oven to 300°. Lightly spray a 9 inch springform pan with nonstick cooking spray. You can also do 6 individual tarts.
In food processor, pulse the cookies into crumbs. Add in sugar, salt and melted butter, pulse until grainy and crumbs are slightly damp.
Turn the mixture onto the springform pan and press on the bottom and up the sides. You can use the bottom of a measuring cup to get the rounded edges if needed.
Place the pan in freezer for 5 minutes, then place onto baking sheet.
Bake until crust is just dry to the touch but not browned, about 12-13 minutes. Remove from oven and place on wire rack to cool.
For the Tart
Increase oven temperature to 325°.
In a medium saucepan over medium low heat, stir together the cream and milk until it is at a slow simmer. Bubbles will form on the sides of the pan. Don't scald or burn the milk. Remove pan from heat, add both kinds of chocolate and whisk until the mixture is smooth. Set aside for at least 5 minutes, until just slightly warm.
In a small bowl, lightly beat egg, egg yolk, flour, bourbon and salt. Add the egg mixture to the chocolate mixture until blended. Pour into the tart shell and bake for 20-25 minutes until just the middle jiggles a bit.
Remove from oven and move to wire rack to cool at least 15 minutes. Remove tart from pan and cool completely.
Serve either at room temperature or just out of the fridge.
Recommended Products
As an Amazon Associate and member of other affiliate programs, I earn from qualifying purchases.
Nutrition Information:
Yield:
6
Serving Size:
1
Amount Per Serving:
Calories:

559
Total Fat:

33.4g
Saturated Fat:

18.8g
Trans Fat:

0g
Unsaturated Fat:

0g
Cholesterol:

133mg
Sodium:

266mg
Carbohydrates:

58g
Fiber:

2.6g
Sugar:

40g
Protein:

4.2g
PIN THIS CHOCOLATE BOURBON TART RECIPE FOR LATER!
Interested in stocking your own home bar? Make sure to see our favorites at our Amazon Store!
If you liked this recipe, don't forget to subscribe for new (and of course free) recipes by entering your email address on the side bar (and get all the recipes delivered to your inbox when we post), so you don't miss out on a thing. You can find us on Facebook, Instagram, Pinterest and Twitter!
Gastronomblog is a participant in the Amazon Services LLC Associates Program, an affiliate advertising program designed to provide a means for sites to earn advertising fees by advertising and linking to amazon.com