Boozy homemade marshmallows with some added chocolate!
Being cocktail bloggers, we are used to being sent samples of different spirits and alcoholic products to try, but rarely do our friends hand us a bottle and ask us to do something with it! We have a friend who loves all kinds of flavored vodkas, but she had one flavor that she couldn't figure out what to do with it, Cookie Dough Vodka.
Homemade Marshmallows
With no idea what to do with it other than shots, she turned to us to see if we could do anything with it!
This post contains affiliate links for products that we think you as readers might find useful, and we make commission off of these! For more details about our affiliates, click our Disclosure and Contacts Page.
We played around a bit with the cookie dough vodka to make her a cocktail she could enjoy, but we kept coming back to using it for some kind of boozy dessert. Since the Cookie Dough Vodka was really sweet and chocolatey, we figured it might be good in something sweet like homemade marshmallows!
We have had a good luck making boozy marshmallows in the past with a delectable Peppermint Mocha Marshmallow and a delicious Cherry Amaretto Marshmallow so why not try to make a chocolate chip one?
Candy Thermometer / Spatula / Pizza Cutter
These boozy marshmallows were a big hit with us and our friends (and our readers!) so we decided to see if we could make Chocolate Chip Boozy Homemade Marshmallows! The sweet fluffy marshmallow lends itself to picking up other great dessert flavors like chocolate.
We added a couple of ounces of the Cookie Dough vodka to our marshmallow mix and suddenly the spirit that we had trouble figuring out how to use became a perfect part of a marshmallow!
Of course any chocolate chip boozy marshmallow needed to have some actual chocolate chips in it! With the cookie dough vodka definitely having a chocolate chip cookie flavor it was only natural to add some chocolate chips to really pop the chocolate cookie dough favor.
We folded in some chocolate chips before the marshmallows set up, which added a nice chunky bite of chocolate to the fluffy marshmallow. The chocolate chip hidden inside almost are like a little treat treasure in there!
Everyone who has tasted these Chocolate Chip Boozy Homemade Marshmallows loved them, sweet and fluffy with a nice chocolate crunch and a hint of fresh chocolate chip cookies! Give these boozy marshmallows a try and you will find them a fine sweet boozy treat!
Cheers!
Like this recipe? Try these below, too!
Candy Cane S'mores Skillet Dip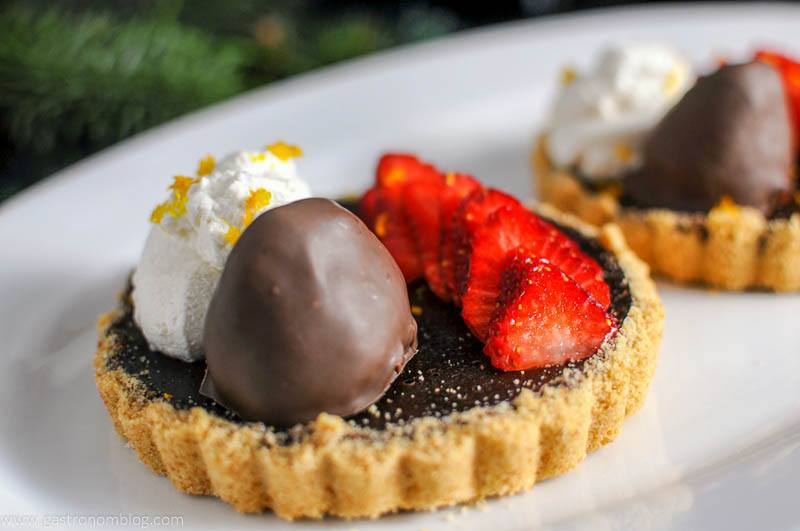 Other Boozy Marshmallows
Boozy Marshmallow Peppermint Bark – A Sassy Spoon
Chocolate Dipped Bourbon Marshmallows – Golden Brown and Delicious
Red Wine Marshmallows & Dark Chocolate Wine Ganache – The Pike Place Kitchen
Yield:

1
Chocolate Chip Boozy Marshmallows
Total Time:
8 hours
30 minutes
Boozy marshmallows with chocolate chips added. Perfect for hot chocolate.
Ingredients
Marshmallows
1 Tbsp water
1/4 cup + 2 Tbsp corn syrup
1/4 cup chocolate chips
2 cups sugar
4 Tbsp Cookie Dough Vodka
pinch salt
Gelatin
3 envelopes plain gelatin (1/4 oz per envelope)
1/2 cup water
Coating
1/2 cup cornstarch
1/2 cup powdered sugar
Instructions
This recipe is easier with a stand mixer, but you can do it with a hand mixer. You can use an 8x8 pan for thicker marshmallows or a 9x13 for thinner. We split the difference at an 8x11.
Place water in the mixing bowl with the whisk attachment. Sprinkle gelatin on top. Let bloom while you are doing the next steps.
Spray sides and bottom of pan with cooking spray. In a small bowl, combine powdered sugar and cornstarch. Coat the greased pan with the sugar/cornstarch mixture, making sure to cover the sides and bottom. Don't use it all, set the extra aside for later.
In a small saucepan, mix together 1 Tbsp vodka, sugar, corn syrup, water and salt. Stir continuously, making sure to not boil over, until the mixture reaches 238 degrees.
Add the remaining vodka and the Kahlua into the mixing bowl with the gelatin. Then slowly add the sugar syrup. Once gelatin is dissolved, set mixer on high, Whip for at least 15 minutes, ours took 19-20.
The mixture is ready once it has doubled in size and is thick enough to to have peaks in the batter.
Add the chocolate chips to the mix, folding it into the marshmallow mix.
Pour mixture into the prepared pan. Use a greased spatula to smooth the top if desired. Dust the top with more sugar/cornstarch mix. Let the marshmallows sit at least 8 hours, or overnight, uncovered in pan
When ready to cut, dust a pizza cutter or sharp knife with more sugar/cornstarch mixture. Then slice to the size you want. Remove the marshmallows from the pan and toss in the last of the sugar/cornstarch mixture so the sides aren't sticky. Store in an airtight container.
Nutrition Information:
Yield:
15
Serving Size:
1
Amount Per Serving:
Calories:

154
Total Fat:

0.9g
Saturated Fat:

0.6g
Trans Fat:

0g
Unsaturated Fat:

0g
Cholesterol:

1mg
Sodium:

9mg
Carbohydrates:

36.7g
Fiber:

0.1g
Sugar:

31g
Protein:

0g
Interested in stocking your own home bar? Make sure to see our favorites at our Amazon Store!
If you liked this recipe, don't forget to subscribe for new (and of course free) recipes by entering your email address on the side bar (and get all the recipes delivered to your inbox when we post), so you don't miss out on a thing. You can find us on Facebook, Instagram, Pinterest and Twitter!
Follow my blog with Bloglovin