Is there any better combo than a strawberry and rhubarb dessert? We don't think so!
The end of May means its rhubarb and strawberry season. Sweet strawberries temper the tart rhubarb to make a seriously delicious team.  On one of recent sojourns to the Omaha Farmer's Market, we found a beautiful bundle of rhubarb, the stalks a mix of red and green with a nice snap. So we decided to make a strawberry rhubarb galette.
While we make excellent pies, making them beautiful is one thing we haven't quite mastered, so we decided to make a rustic tart.  We sprinkled a bit of white sugar on the crust to give it a bit of a sparkle and give the crust a bit more color.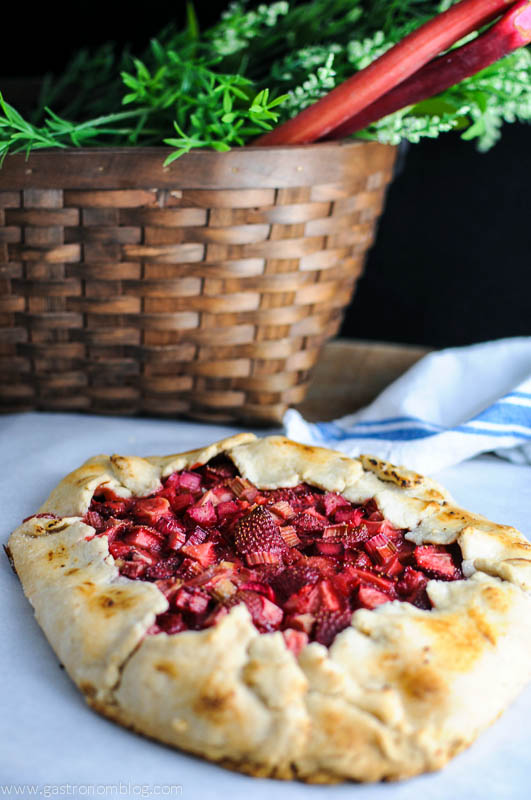 Strawberry Rhubarb Rustic Tart
Ingredients
Strawberry Rhubarb Rustic Tart!

1/3 cup sugar
2 tablespoons all-purpose flour
1/8 tsp salt
1/8 tsp allspice
3 cups strawberries, stems removed and cut into 1-inch pieces
1 cup rhubarb, sliced into 1/4-inch pieces
1/2 tsp fresh lemon juice
1 teaspoon vanilla extract
One 9-inch unbaked refrigerated pie crust (store-bought or homemade)
1/4 cup crushed graham crackers
Instructions
In a medium bowl mix the sugar, flour, salt, and allspice. Add the strawberries and rhubarb to the bowl and gently mix the fruit with the dry ingredients. Add the lemon juice and vanilla and mix the fruit mixture until all the dry ingredients have been absorbed by the liquid and fruit. Set the bowl aside so the strawberries can macerate while the oven preheats.
Preheat the oven to 375 degrees. Line a baking sheet with parchment paper.
Lay the pie crust flat on top of the parchment paper. Spread the graham cracker crumbs over the center of the crust leaving a 2-inch border around the edges. Mound the fruit mixture over the graham cracker crumbs. Fold the edges of the crust over the fruit, pleating the dough as you go and leaving the center exposed.
Bake for 45-55 minutes until the strawberries and rhubarb are fork tender and the crust is golden brown.
Recipe adapted from a kids recipe on pbs.org
https://www.gastronomblog.com/2015/05/23/strawberry-rhubarb-rustic-tart/
Recipe by www.gastronomblog.com
Interested in stocking your own home bar? Make sure to see our favorites at our Amazon Store!
If you liked this recipe, don't forget to subscribe for new (and of course free) recipes by entering your email address on the side bar (and get all the recipes delivered to your inbox when we post), so you don't miss out on a thing. You can find us on Facebook, Instagram, Pinterest and Twitter!