Last Updated on November 28, 2022 by The Noms
This is a family tradition cocktail, the Tom and Jerry drink is one that we have every year! This Tom and Jerry Recipe is the perfect holiday boozy treat that works all season long!
Every year after the turkey and sides have been eaten, and about the time everyone starts to get hungry for pie, someone will break out the mixer and the hot water and make up a big batch of hot cocktails called the Tom and Jerry. For us, making the Tom and Jerry recipe is officially the start of the Christmas season! Likewise, our tradition is to start decorating for Christmas the day after Thanksgiving, and these Tom and Jerry's keep flowing at family events until after the New Year.
We think vintage cocktail is about to make a big comeback, or at least it should, it's delicious!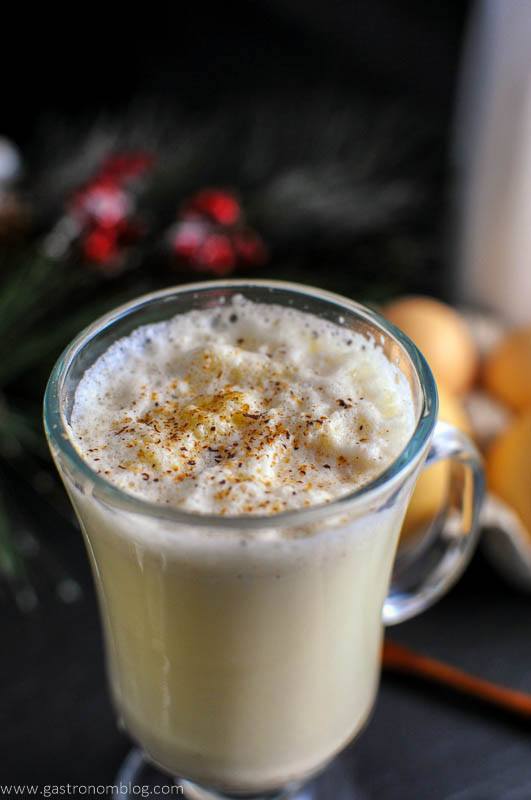 This post contains affiliate links for products that we think you as readers might find useful, and we make commission off of these! For more details about our affiliates, click our Disclosure and Contacts Page.
Why is it Called a Tom and Jerry Drink?
Claimed to be originally created back in the 1840's as a winter cocktail at St. Louis's Planter House Hotel by Jerry Thomas. Thomas authored the first cocktail book Bar-Tender's Guide, How to Mix Drinks back in 1862 and he was considered the godfather of American mixology. In many accounts, Jerry Thomas claims its start as 1847, naming it after himself and "two small white mice" he kept as pets named Tom and Jerry.
But, it seems this egg based brandy cocktail recipe has been written down in America since the 1820s. It is sometimes credited to English author Pierce Egan, who write a play of the name of "Tom & Jerry" in 1821. but no recipe records of the same.
So, we can assume it is a descendant of Eggnog, and it was created sometime in the early 19th century, most likely in New England.
It can be a pain in the butt to make, but we think well worth it. Tom and Jerry dedicated bowls (and glasses) were filled with batter each holiday season around the US until the popularity seemed to die down around the turn of the 20th century. The recipe has been reworked by bartenders, as well as us. We have lightened the classic recipe that used to be served in Jay's family, to make it not as heavy. But, it's still rich and decadent.
Tom & Jerry Drink
The Tom and Jerry recipe is a warm sweet cocktail that can be spiked with brandy and/or rum, and topped with an aromatic burst of nutmeg. It was likely inspired by a boozy version of English eggnog that is served around the Holidays. This warm drink full of spices is perfect sipping on a cold winter's night. The Tom and Jerry quickly gained favor at saloons and bars with drinkers who wanted a warming tipple.
In our family, the Tom & Jerry was one of Mr. Nom's grandparents favorite holiday drinks (they even had the little white china mugs that said Tom and Jerry on them)! The Grandparents were always the ones who made the batter, and family gatherings at their house meant that at some point Tom and Jerry's would be served for all (virgin drinks for the kids of course!).
Butter and vanilla can be modern additions, but the base remains the same: frothy and spiced egg batter mixed into rum and brandy, and mixed with warm milk and nutmeg.
How do you Make the Tom and Jerry Mix from Scratch?
When we started hosting family gatherings, we decided that we needed to keep up this tradition and serve mugs of Tom and Jerry to our family.
We think the Tom & Jerry is a classic winter cocktail that every cocktail lover should try at some point. It is labor intensive, and isn't the easiest drink to make, but it is worth doing. It's a pretty old-fashioned drink, but it's still a popular tipple around the holidays, particularly in the Midwest.
We could have used the recipe that the grandparents used. But, as is our typical path when looking at drinks for the blog, we do a little research in finding the right recipe. While we have always enjoyed the Tom and Jerry's served at family gatherings, one commonly heard complaint was that the drink was way too sweet.
We were looking in our copy of the Bar-Tender's Guide and the original recipe sounded delicious. Likewise, it was definitely not nearly as sweet. Since we are big on trying out the classic cocktails, we decided to serve our version of the original recipe this year. We did a taste test at our Thanksgiving gathering versus the sweet recipe that had been served for many years.
How to Make a Tom and Jerry
First, making the batter, and after you stir in the warm milk you will be rewarded with a creamy and dreamy drink that is perfect with a sprinkle of nutmeg on top. The taste can be somewhat like eggnog but with even more spices.
The original recipe does call for a in depth process to make the batter. The batter includes separating the eggs and beating the whites into a foam like meringue while also warming milk on the stove. You won't regret the work when you are sipping your hot mug of boozy foam.
Make sure to stir constantly while adding the hot milk or the batter will curdle.
What is the Difference Between Eggnog and a Tom & Jerry?
While this drink is often compared to eggnog, it is different. The main difference is that a Tom & Jerry is served warm, and the drink is built in the serving mug. Eggnog, on the other hand, is cold and already mixed and ready to drink. Eggnog is also not necessarily an alcoholic beverage.
Today most store bought eggnog is made with cooked eggs and heavy cream. The resulting liquid is a thick custard. It's a heavy drink, and a Tom and Jerry with warm milk is lighter with a similar flavor.
However, the Tom & Jerry is a fantastic alternative to eggnog, and many drinkers prefer it because it is more of a warm milk punch and has less of an egg flavor. It can be made virgin just with the batter and warm milk if wanted.
We think this style of Tom and Jerry is a more latte or cappuccino than heavy eggnog. The top has a nice foam like a coffee.
You may find that putting together the Tom & Jerry is kind of like making a hot buttered rum. It begins with mixing the batter, which can be refrigerated or frozen until it's time to make a drink. The batter makes for about 25 drinks. It's a great way to have a tasty hot cocktail ready for the holidays.
Try another warm cocktail, our Toasted Cream Irish Coffee!
Tom & Jerry Ingredients
Brandy or Rum – or both. Honestly, use what you like. Dark rum, gold rum, spiced rum are all great options. Brandy can be switched up with cognac, apple brandy or pear brandy. Whatever flavors you like!
Vanilla Extract – a modern addition, but we love the vanilla flavor with the spices.
Cloves, Cinnamon and Nutmeg – all necessary spices to make this Tom & Jerry the best it can be. This makes for a great warm brandy cocktail recipe! Get some fresh spices here: Cloves, Cinnamon and Nutmeg.
Eggs – make sure they are fresh and separate the yolks and whites. Use either a hand mixer or stand mixer.
Powdered Sugar – this is the sweetener we use for the cocktail.
Milk – 1% or 2% work great. We don't recommend skim because it won't be creamy. Also, feel free to add hot water to this too for a larger less creamy drink.
Also, we should mention the elephant in the room. Yes, this drink contains raw eggs. If you feel you can't do raw eggs, you can buy pasteurized in the shell eggs.
Make a big batch of the Tom & Jerry cocktail recipe batter, and it's perfect for a party!
Best Brandy for a Tom & Jerry
For this Tom & Jerry cocktail, we think there are some great brandy options. There are many different kinds of brandy: flavored brandies like apple or pear, VS/VSOP brandies, cognac or Armagnac. All good choices and just use what you would like.
Tips & Tricks
Alcohol – if you don't want to use rum and brandy, or 1 of each, other great options would be a rich cognac or Armagnac, bourbon, or spiced rum. Make sure to measure using a jigger!
Serving – if you have a Tom & Jerry punch bowl and cups, use them! If not, glass mugs and a mixing bowl work great! Heat you mugs by filling them with hot water before getting ready to serve the Tom & Jerry. And always grate nutmeg on top, though!
Batter – you can prep this a couple days in advance. Just keep in airtight container in the fridge. You can freeze it as well.
If You Are Looking for More Holiday Recipes, Try These!
Cheers!
Also, don't forget to follow us on Instagram and tag #gastronomcocktails so we can see all the wonderful recipes YOU recreate from this site!
You can also subscribe to our newsletter so you never miss a delicious recipe again!
Like this recipe? Try these below, too!
Salted Bourbon Butterscotch Eggnog
Dutch Baby Pancake with Blueberry Whiskey Sauce
Other Warm Holiday Cocktails
Yield:

1
Tom and Jerry - A Brandy Cocktail
A family favorite, this cocktail is perfect for chilly winter nights, and to be enjoyed with a crowd.
Ingredients
Tom & Jerry Cocktail
hot water
6 eggs, separated
1 cup powdered sugar
2 tsp vanilla extract
pinch each of cloves, cinnamon and nutmeg
brandy, rum or a combination of both
hot milk
Instructions
Separate eggs. Whites and yolks in different bowls.
Whip whites in a stand mixer, or with a hand mixer.
When thickened slightly, add 1/2 cup of powdered sugar, 1 spoonful at a time. Continue whipping whites until stiff peaks form.
Mix yolks and remaining 1/2 cup powdered sugar, cinnamon, cloves and nutmeg.
When whites are stiffened, add yolk mix to whites and fold to combine. Add in vanilla extract.
When making cocktails, add batter to cup, around 1/4 cup, and then add brandy and rum (1.50 oz total).
We used 1 oz brandy and .50 oz rum, but you can use whatever combination you like the best. Add at least 4 oz hot milk, then top off mug with hot water if desired.
You can add as much milk as you like, more makes it creamier.
Add grated nutmeg on top for a garnish.
Stir slightly to combine.
Cheers!
Recommended Products
As an Amazon Associate and member of other affiliate programs, I earn from qualifying purchases.
Nutrition Information:
Yield:
1
Serving Size:
1
Amount Per Serving:
Calories:

105
Total Fat:

2.2g
Saturated Fat:

0.7g
Trans Fat:

0g
Unsaturated Fat:

0g
Cholesterol:

82mg
Sodium:

31mg
Carbohydrates:

10.2g
Fiber:

0g
Sugar:

10.1g
Protein:

0g
PIN THIS TOM AND JERRY COCKTAIL RECIPE FOR LATER!
Interested in stocking your own home bar? Make sure to see our favorites at our Amazon Store!
If you liked this recipe, don't forget to subscribe for new (and of course free) recipes by entering your email address on the side bar (and get all the recipes delivered to your inbox when we post), so you don't miss out on a thing. You can find us on Facebook, Instagram, Pinterest and Twitter!
Gastronomblog is a participant in the Amazon Services LLC Associates Program, an affiliate advertising program designed to provide a means for sites to earn advertising fees by advertising and linking to amazon.com