Last Updated on October 8, 2023 by Leah Hall
A beautiful fall cider and bourbon cocktail with fall spices, this Clove & Cider Cocktail is a great smoked drink with so much flavor!

Fall is one of our favorite times of the year, the cool crisp days and brilliant colored leaves and evenings around the fire pit! These events lend themselves to lots of treats and drinks with warm baking spices and fall fruits fresh out of the orchards. The flavors of fall make for some great fall drink recipes and we thought a cider cocktail would embrace those fall flavors!
This post contains affiliate links for products that we think you as readers might find useful, and we make commission off of these! For more details about our affiliates, click our Disclosure and Contacts Page.
This cider cocktail is beautiful enough for a special occasion, but it's so fast and easy to make, you can make it any night of the week.
Most cider cocktails fit fall perfectly, with simple ingredients and a clove simple syrup that works in a lot of fall cocktails. This cocktail comes together in under 5 minutes even with smoking the glass, and is perfect for sipping around a bonfire in the evening.
Apple Cider and Bourbon Cocktail
We came up with this great bourbon cocktail we call the Clove and Cider. Fall alcoholic drinks are a favorite of ours!
For our Clove and Cider, we wanted to use one of our favorite fall flavors, apple cider. This is especially true because we live just a short drive from some incredible apple orchards that make some fantastic ciders. Fresh tart apple cider is delicious in cocktails like our Apple Cider Mimosa, Apple Manhattan or Apple Cider Sidecar. We have even used it to make fresh apple cider syrup!
With apple cider as the base, we wanted to find something that would pair up and enhance the cider.
We figured that a good Bourbon would be a delicious partner to the apple cider. Like when we came up with our Peach and Basil Bourbon Shrub, we knew bourbon can stand up to strong flavors, but make it shine.
Cider pairs perfectly with sweet and spicy bourbon in this sophisticated smoked drink. It has a hint of lemon and by smoking the glass, rounds out the flavors for an intriguing and complex sip!
We wanted to add in a hint of baking spice, so we made a clove infused syrup to add spice and sweetness. The clove syrup worked really well with the apple cider and the vanilla notes of the bourbon. We wanted a little more complexity, so we added a splash of amaro.
The amaro brought a deep rich herbal and spice character to the Clove and Cider that really created the feeling of a crisp fall day.
What Ingredients are Needed for the Cider Cocktail?
Our goal for this fall cocktail was simple: to create a drink that's interesting but not too sweet, that highlights apple cider and gives cozy feelings of fall and winter.
Bourbon – Make sure to choose something good enough to sip by itself. Four Roses, Woodford Reserve, or Elijah Craig are good choices. This bourbon adds vanilla and caramel notes to the cocktail.
Clove Simple Syrup – this obviously has to be homemade, but is super easy to make. Just a simple mix of sugar and water, and add cloves for infusion. Recipe is down below.
Lemon Juice – remember fresh squeezed is best!It helps keep the sweetness level in check.
Amaro – a lot of amaro will work well. Amaro Lucano, Montenegro or Averna or Nonino are great choices.
Apple Cider – the fresher the cider, the better. Tart and sweet at the same time, it's a great flavor in this drink. Unfiltered apple cider will look cloudy, not like apple juice. But, this is flavor and don't let it scare you! Try it in our Apple Cider Margaritas or Spiced Cider Hot Toddy!
To add a bit of flair and flavor, we smoked the coupe with a smoldering cinnamon stick. The smoke from the cinnamon stick perfumes the glass and gives the drink a great smoky flavor. The scent reminded us of a crisp fall evening around a fire pit. We used a smoldering cinnamon stick as a garnish, too!
The cinnamon smoke also pairs really well with the apple cider, bourbon and amaro. It added an aromatic quality to the drink that engages multiple senses, making the Clove and Cider more than just a taste experience!
How to Make this Apple Cider Cocktail
This apple cider cocktail takes only a few minutes to make.
Smoke the Glass – a culinary torch is the easiest way to do this, so torch the end of the cinnamon stick until it starts smoking. Then, set the coupe over the top of the cinnamon stick and let it sit while you make the cocktail.
Shake the Cocktail – Shaking dilutes the drink with ice, and chills the cocktail.
Strain and garnish – Strain the drink into a coupe. You can also get away with this drink in a rocks glass, if you'd like!
Can I Use Apple Juice instead of Cider?
Apple cider is raw and has no filtration, which means it's a little more tart than apple juice. Apple juice, on the other hand, has been pasteurized and shelf-stable, usually sweeter.
If you cannot find apple cider, you can use apple juice, just know that apple juice is sweeter than cider, the drink might be sweeter, too. Adding a little extra lemon juice for balance if you use apple juice. Cider drinks tend to be richer than just apple juice drinks. Try it in our Apple Cider Old Fashioned or Fall in Paradise.
Can I Make this For a Crowd?

Yes, you can make this for a crowd and pre-mix the ingredients. Store it in the fridge without ice and when you are ready to serve, smoke the glasses and pour the cocktails.
Tips and Tricks
Smoking – when you set up the smoking glass, make sure you have the cinnamon stick smoking before putting the glass over it. You won't get much smoke otherwise.
Garnish – there are many choices of garnish for a fall cocktail. You can use the smoldering cinnamon stick like us, or cut apple slices (make sure to spritz them with lemon juice), fresh herbs like thyme or rosemary.
Fall touches – if you want more fall touches for this drink, feel free to do a half rim addition of either cinnamon and sugar, or caramel sauce. I wouldn't put it around the whole rim, as that will make the drink too sweet, but would add a great fall touch. Or, a dash of cinnamon or apple pie spice on top of the drink.
Ice – we prefer this served up without ice. But, if you would like it chilled, feel free to serve over ice.
If You Want More Cinnamon Recipes, Try These!
We think the Clove and Cider will be your next favorite fall cider cocktail that you can enjoy with friends around your fire pit!
Cheers!
Also, don't forget to follow us on Instagram and tag #gastronomcocktails so we can see all the wonderful recipes YOU recreate from this site!
You can also subscribe to our weekly newsletter so you never miss a delicious recipe again!
Like this recipe? Try these below, too!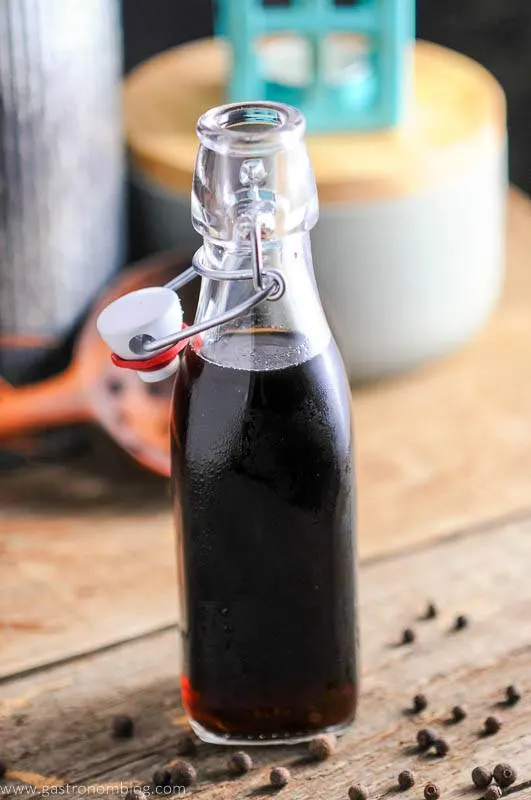 Homemade Allspice Dram
Maple Old Fashioned
Other Fall Bourbon Cocktails
Other Clove Cocktails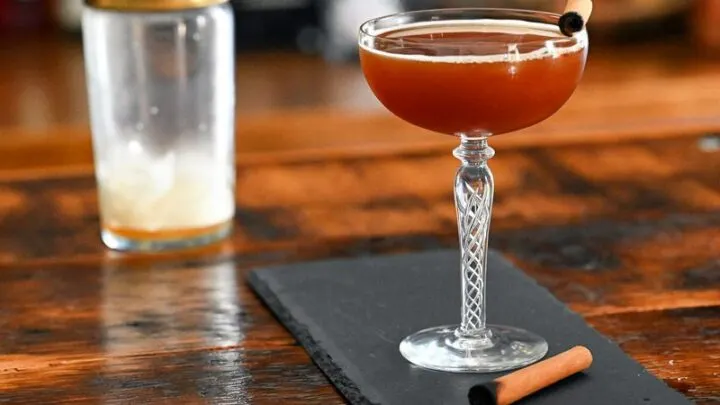 Yield:

1
The Clove and Cider - A Bourbon Cocktail
A fall flavored cocktail with cloves and apple cider, this is perfect for the weather!
Ingredients
Clove and Cider Cocktail
2 ounces bourbon
1 ounce Amaro
2.50 ounces apple cider
.75 ounce clove simple syrup
.25 ounce freshly squeezed lemon juice
Clove Simple Syrup
2 Tablespoons whole cloves
1 cup sugar
1 cup water
Instructions
For the Cocktail
Use a culinary torch or lighter to light the end of a cinnamon stick so it smolders/smokes.
Place a cocktail glass upside down over the smoldering cinnamon stick and allow the smoke to fill the glass.
In a mixing glass, add ingredients with ice and stir for 30 seconds until fully chilled.
Strain the liquid into the smoked glass.
Garnish with the cinnamon stick.
Cheers!


Clove Simple Syrup
Bring cloves, water and sugar to a boil in a small saucepan.
Remove from the heat.
Allow to steep until cool.
Strain and store in a sealed container for up to 2 weeks in the fridge.
Nutrition Information:
Yield:
10
Serving Size:
1
Amount Per Serving:
Calories:

341
Total Fat:

0.2g
Saturated Fat:

0.1g
Trans Fat:

0g
Unsaturated Fat:

0g
Cholesterol:

0mg
Sodium:

22mg
Carbohydrates:

37.5g
Fiber:

0.1g
Sugar:

19.1g
Protein:

0.1g
Interested in stocking your own home bar? Make sure to see our favorites at our Amazon Store!
If you liked this post, don't forget to subscribe for new (and of course free) recipes by entering your email address on the side bar (and get all the recipes delivered to your inbox when we post), so you don't miss out on a thing. You can find us on Facebook, Instagram, and Pinterest!
Gastronomblog is a participant in the Amazon Services LLC Associates Program, an affiliate advertising program designed to provide a means for sites to earn advertising fees by advertising and linking to amazon.com