Last Updated on November 17, 2023 by Leah Hall
We hope you enjoy this Pistachio Martini recipe as much as we do! It's a great light green color to make the holidays festive, as well as perfect for St. Patrick's Day!
The Pistachio Martini Recipe has been around for a few years, I can't find a lot of history on its' origin, but it seems to have started somewhere in the Northeast, maybe around Boston in some high-end bars? And in 2023, the Pistachio Martini has been gaining popularity on TikTok and online. We have seen 2 takes on this light green drink.
This post contains affiliate links for products that we think you as readers might find useful, and we make commission off of these! For more details about our affiliates, click our Disclosure and Contacts Page.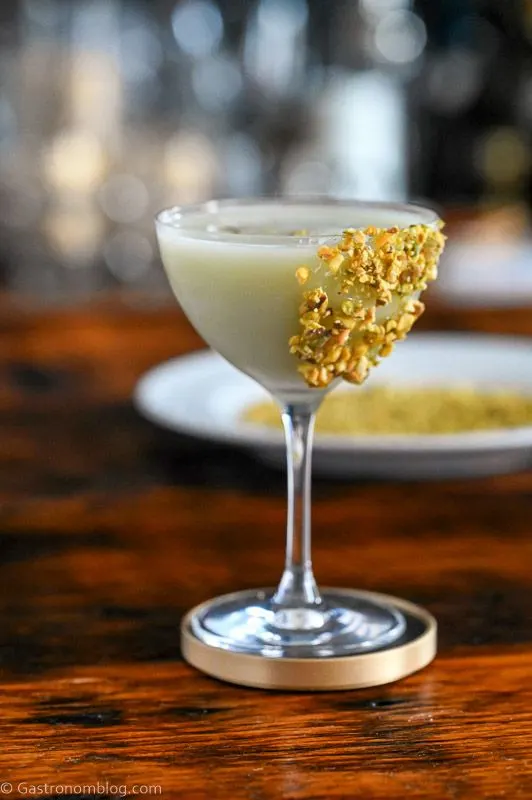 We made a Pistachio Whiskey Sour a few years ago, but not with Pistachio Liqueur, so this was a unique twist.
Nutty and sweet, sometimes a float with a scoop of pistachio ice cream or gelato. The first take gets what they say is a pistachio flavor from a combo of amaretto, blue curacao liqueur, and Irish cream liqueur. This combo of the Irish cream and blue curacao makes for the green color.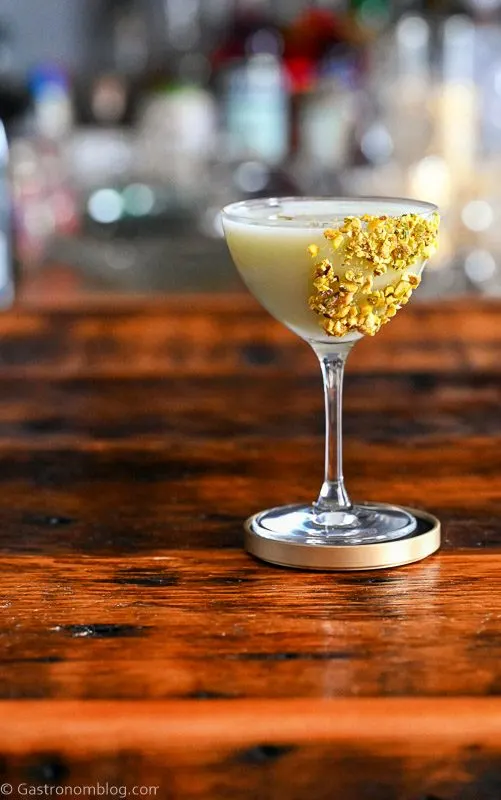 The second take has a more traditional cocktail base and consists of vanilla vodka, pistachio syrup, crème de banana, crème de menthe, and half and half.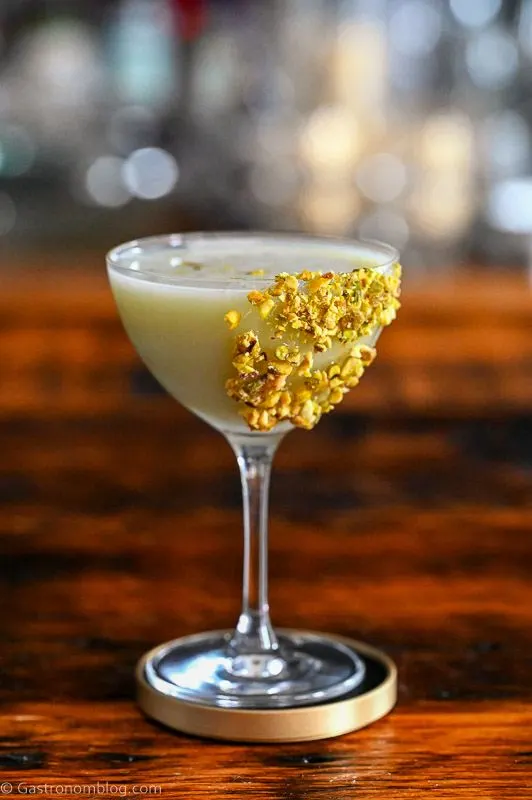 Well, of course, we turned both recipes on their head and made our own unique drink. Other than the pistachio syrup in the second recipe, there was no pistachio liqueur in the recipes. We knew that we could use pistachio liqueur for a fun take on the Pistachio Martini Recipe on our own!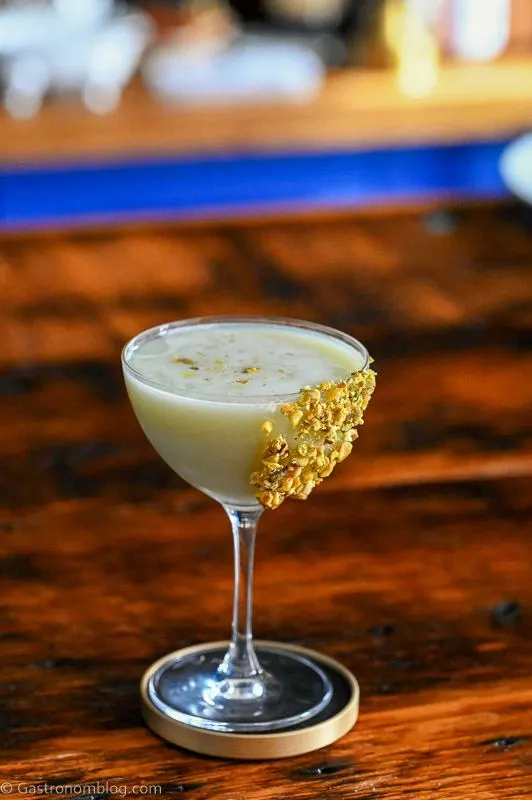 Because as far as dessert-like martini go, we think it should contain the actual ingredient it is named for, right?!
What is a Pistachio Martini?
A pistachio martini is a dessert-like drink that is creamy with pistachio flavor. In the case of this recipe it balances the flavors of vanilla vodka, pistachio cream liqueur, Benedictine, absinthe and hazelnut bitters. The "classic" green pistachio martini recipe that has been floating around social media is green because of the Irish cream and blue curacao martini combo – but we tried it and weren't overly impressed by the orange flavor in the cocktail, it felt off-putting to us.
But, if you like it that way, feel free. It does make a better and brighter green than our great drink does. But, we think ours tastes better and have a great creamy texture!
This cocktail can be too sweet if cream is added, we tried. But, you can add some if you want a creamier texture and a more dessert-y feel. But, we think if you use the vanilla vodka with Benedictine and taste of pistachios from the pistachio liqueur then you will have plenty of sweet.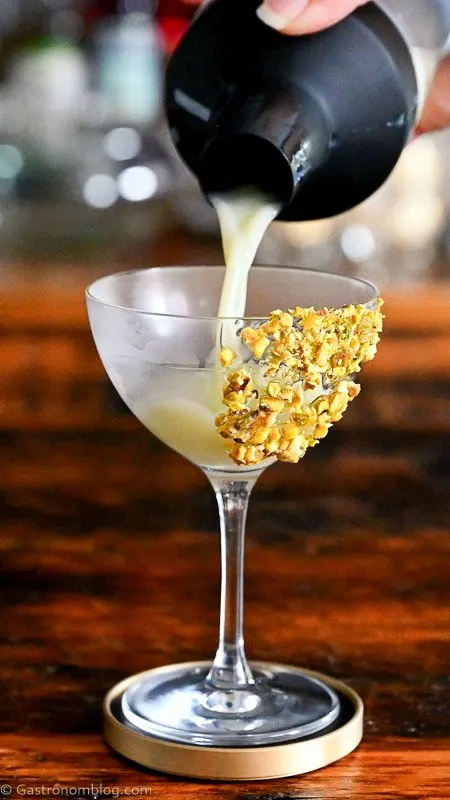 This nutty variation on the traditional martini is the perfect after-dinner treat or boozy dessert, for a special occasion with a base of vanilla vodka and pistachio liqueur.
How to Make a Pistachio Martini Recipe

Chill everything. We mean it. Martinis are all about the temperature, so make sure every liquid is chilled in the fridge before you get started. This includes your cocktail coupe in the freezer for a few minutes, or ice down the glass before pouring the drink in.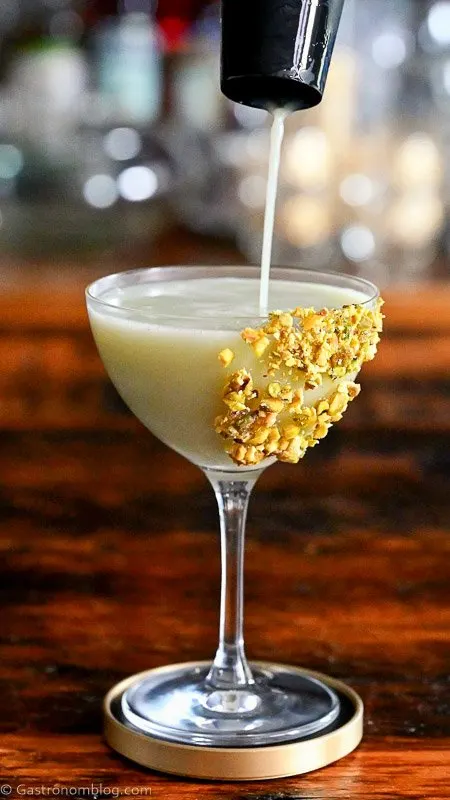 Make sure to add plenty of ice in the cocktail shaker and give a good shake for at least 30 seconds to get things nice and frosty, and mixed. This will help your first sip to give an actual pistachio flavor and subtle sweetness to this creamy cocktail.
Garnish your cocktail if you care to with crushed pistachios (we used honey to make them stick), and then place in the freezer to chill. Then add all your ingredients with ice cubes to a cocktail shaker and shake. Then simply spray or rinse your chilled glass with some absinthe. If rinsing, dump out the excess absinthe. And the pour your cocktail in and sip!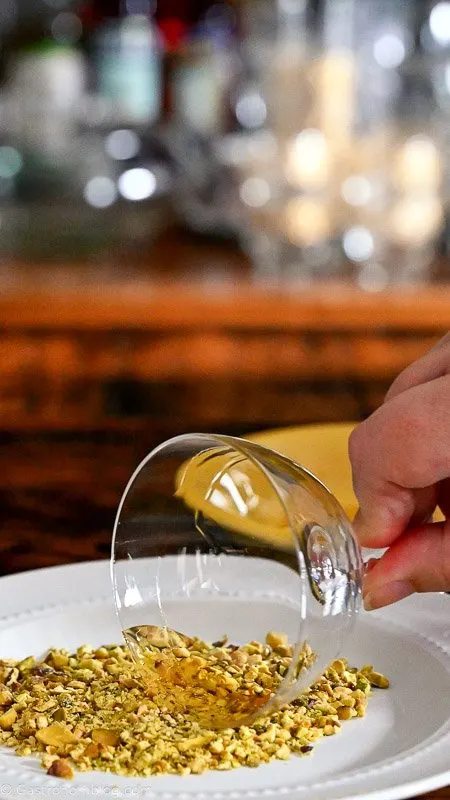 This liqueur would also make great Pistachio Espresso Martinis or a pistachio latte with coffee liqueur. This drink is perfect for the colder months with a slightly nutty flavor and a great way to switch up old classics.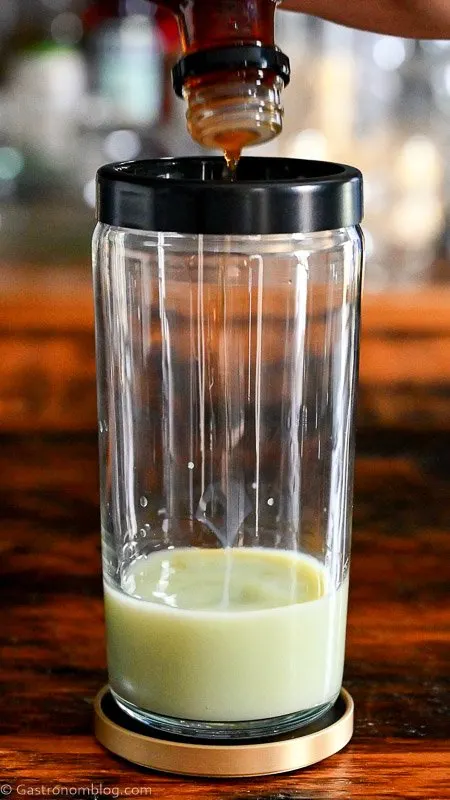 What Ingredients are Needed for the Pistachio Martini Recipe?
Pistachio Liqueur – we used a pistachio cream liqueur from Fabrizia, which is made with real pistachios and cream. There are many other brands, and if you cannot find one in your local liquor store, you can find it online. Some other brands are Bottega, Dolce Cilento, Maplewood, or Castle Glens. I am sure there are more, but these are the ones I have heard of.
Vanilla Vodka – This flavored vodka adds some sweet vanilla flavor to the recipe. And plays well with the pistachio. If you want to make your own vanilla vodka you can!
Benedictine – Benedictine is a liqueur with aromatic, floral and herbaceous flavors with notes of baking spices, honey and a dash of orange.
Hazelnut Bitters – these bitters add a nutty flavor and add perfect balance to the already nutty cocktail. But, it seems to add some baking spices along with the Benedictine, so they all play well together.
Absinthe – a high-proof spirit not a sweetened liqueur. No, it will not make you hallucinate. But, it will add some herbal and anise notes to this delicious drink and to your nose before sipping.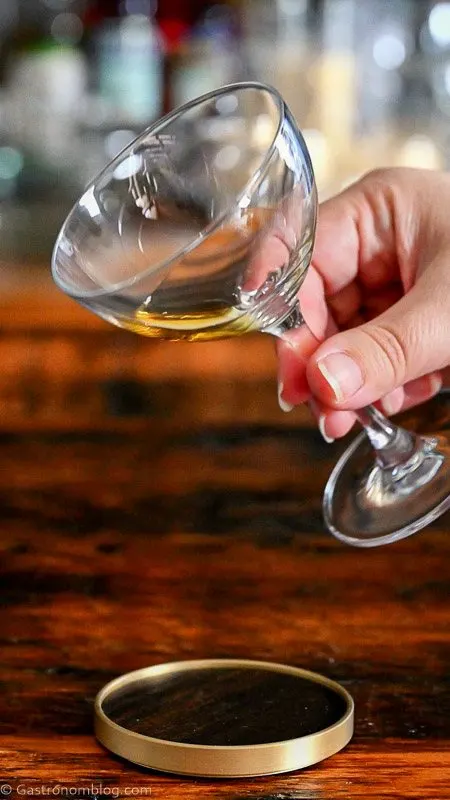 Tips & Tricks
Where to Buy Pistachio Liqueur? Pistachio Liqueur may not be super available at most peoples' local liquor stores. We recommend purchasing online if there is nowhere close to you. It is necessary to make this perfect Pistachio Martini.
Mocktail – this can be a mocktail as well, but you won't be using the same ingredients. Being the cocktail is all alcohol, we have to use different things. Try a scoop of pistachio ice cream or gelato, dash of vanilla extract and a dash of pistachio extract. As well as a little milk, almond milk or half and half, shake it up with ice, or blend in a blender with ice. You can also add some pistachio syrup if it needs sweetening or more pistachio flavor. We like the Amoretti syrup over the Monin pistachio syrup.
Glassware – a small cocktail coupe is the perfect choice for this drink, although a Nick & Nora would work, too! It's just 3 ounces, so don't use a huge coupe or martini glass.
Pistachio Flavor – if you want more pistachio flavor in this cocktail, add a few drops of pistachio extract.
Vanilla Vodka – feel free to make your own homemade vanilla vodka if you cannot find some in the store, or don't want to buy any. Or, you can use regular vodka and add some vanilla extract, about 1/4 tsp into the cocktail shaker. Or, if you want, you can sub the vanilla vodka for vanilla rum. You can also add more alcohol if you want a stronger drink.
Garnish Ideas – You can top this with some whipped cream and chopped pistachios, just some chopped or crushed pistachios. We garnished with some ground pistachios and stuck them on one side of the glass rim with honey. Or, you can stick them on with melted chocolate or a thin layer of white chocolate on the rim of the glass. We encourage you to pop the glass into the freezer to set the honey or chocolate and pistachios. If you are making these for the holidays add some sugared cranberries, espresso beans, or brandied cherries!
Float – you can make this cocktail into a float by pouring the cocktail over a scoop of vanilla ice cream, pistachio ice cream or gelato!
Pistachio Liqueur – if you absolutely cannot find pistachio cream liqueur, there are clear pistachio liqueurs, and you can always add some heavy cream or a splash of half and half to make the creamy mouthfeel and flavor. If you use the clear liqueur, then add .50-1 ounce of cream to help the recipe.
Chocolate Pistachio Martini – Make it a Chocolate Pistachio Martini by adding 1 ounce of chocolate liqueur or White Chocolate liqueur! Try out different liqueurs with the pistachio to see what you like.
Frozen – another version of this Pistachio Martini can be frozen! Just add all the ingredients together in a blender with ice and combine. You may need a dash of half and half and more ice to get the right consistency. Make sure to use chilled martini glasses to serve these dessert martinis.
Cheers!
Also, don't forget to follow us on Instagram and tag #gastronomcocktails so we can see all the wonderful recipes YOU recreate from this site!
You can also subscribe to our weekly newsletter so you never miss a delicious recipe again!
Like this recipe? Try these below, too!
Chocolate Cold Brew Cocktail
Winter Whiskey Sour
Other Martini Recipes
Yield:

1
Pistachio Martini Recipe
This Pistachio Martini Recipe is perfect for Christmas, the holiday season or St. Patrick's Day! A light green color and full of nutty flavor!
Ingredients
1.50 ounces Pistachio Cream Liqueur
1 ounce vanilla vodka
.25 ounce Benedictine
4 drops hazelnut bitters
absinthe, for rinse or spray
Instructions
Prep the Glass - if you are garnishing the coupe with pistachios, we suggest placing 10-20 pistachios on a cutting board and using a mallet or a rolling pin to crush the pistachios into bits. The smaller the better because the smaller pieces will stick easier to the edge of the coupe.
You can use chocolate sauce or honey to stick the pistachio dust to the rum or side of the glass. Dip the coupe in the sauce or honey and then into the pistachios. Then place the coupe glass into the freezer to chill and set the garnish. Or, pour ice into the coupe to chill while shaking.
Pistachio Martini
Combine Pistachio liqueur, vanilla vodka, Benedictine and Hazelnut bitters in a cocktail shaker with ice. Shake at least 30 seconds.
Take your coupe out of the freezer or dump ice. Spray absinthe mist in glass, or pour in a little absinthe and roll around the glass to coat. Pour out any extra absinthe.
Strain cocktail into coupe from cocktail shaker using a Hawthorne strainer. Garnish with any extras you want.
Cheers!
Notes
Make sure to read our tips above about how to make sure the garnish sticks, and other garnish ideas and flavoring ideas.
Recommended Products
As an Amazon Associate and member of other affiliate programs, I earn from qualifying purchases.
Nutrition Information:
Yield:
1
Serving Size:
3 ounces
Amount Per Serving:
Calories:

579
Total Fat:

19.5g
Saturated Fat:

12g
Cholesterol:

60mg
Sodium:

121mg
Carbohydrates:

40.8g
Sugar:

33.3g
Protein:

4.5g
Interested in stocking your own home bar? Make sure to see our favorites at our
Amazon Store
!
If you liked this post, don't forget to subscribe for new (and of course free) recipes by entering your email address on the side bar (and get all the recipes delivered to your inbox when we post), so you don't miss out on a thing. You can find us on Facebook, Instagram, and Pinterest!
Gastronomblog is a participant in the Amazon Services LLC Associates Program, an affiliate advertising program designed to provide a means for sites to earn advertising fees by advertising and linking to amazon.com