Last Updated on October 10, 2023 by Leah Hall
A vodka based cocktail, this Lemon Drop Martini is a sweet and sour drink, a classic, and so easy to make!
This tangy martini is balanced and tart! The Lemon Drop Martini is served with a sugar rim and lemon twist. It's great as a tart dessert cocktail or a great refreshing sip when the weather gets warmer!
This post contains affiliate links for products that we think you as readers might find useful, and we make commission off of these! For more details about our affiliates, click our Disclosure and Contacts Page.
Why is It Called a Lemon Drop Martini?
The Lemon Drop Martini first came into play in San Francisco sometime in the 1970s. The inventor, Norman Jay Hobday, a Vietnam vet bar owner (also credited with the USA's first Fern Bar, a concept of house plants and Tiffany Lamps), appealed to the urban drinkers in his city.
Both the Lemon Drop Martini and Fern Bar ideas were an instant hit. For decades the Lemon Drop was on cocktail menus from all over the world, with it's tart and sweet combo. In 2006, Oprah served one to Rachael Ray on her show, which made the drink even more popular!
After it's invention it was also made into a shooter version so the reach was even more widespread.
Technically the Lemon Drop isn't a martini. The closest cocktail relative is actually the Crusta, a New Orleans cocktail recipe that comes from the 1850s and has a sugared rim. Speaking of the sugar rim, it is worth the effort to put on your cocktail coupe. Trust us, don't skip this step!
How to Make a Lemon Drop Martini
If you're ready to get shaking on this Lemon Drop, here are the basic steps:
Rim the Glass with Sugar: A classic Lemon Drop Martini is served in a martini glass with a sugared rim. This is to balance out the tart flavor of the cocktail. We used a coupe, as we really don't use martini glasses, but use what you would like!
Shake: This is a shaken cocktail, so make sure to shake with ice to chill!
Strain and Garnish: Strain the drink into the glass and add a lemon twist.
How to Make the Sugar Rim
The sugar rim on the glass makes for a festive look as well as balancing out the tart flavor! Here are our tips to make the perfect sugared rim:
Spread the sugar on a plate or in a rimming container in an even layer.
Take a lemon wedge and cut a notch. then rub it around the rim of the glass.
Dip the glass into the sugar so the sugar sticks to the wet outside edge.
Shake off loose sugar.
Cointreau vs Triple Sec
There is some talk about which liqueur is better. But this all also depends on if you use a citron vodka, as the original recipe calls for. We opted just to use regular vodka, but feel free to use what you have and what you like.
The classic Lemon Drop Martini has triple sec in the recipe, but some people say that Cointreau is a better choice. I think it's all up for interpretation and preference. Cointreau is more of a perfumy orange flavor that is balanced between bitter and sweet. It also has a higher ABV than Triple Sec. Triple Sec can be harsher, but it can be more orange and light. We personally prefer Triple Sec, but either way works and again, it's what you prefer.
Some cocktails that use Cointreau are the Classic Margarita and the Cosmopolitan. So, if you have had those with Cointreau you may prefer that. Triple Sec isn't the brand name – it's just what is on the bottle and means triple distilled.
Ingredients in a Lemon Drop Martini
Vodka: we used a high quality, unflavored vodka. But, the classic recipe calls for citron vodka, which makes the drink more lemony.
Fresh Lemon Juice: Freshly squeezed is best! Use a citrus juicer to make it extra fresh.
Simple Syrup: Easy recipe to make at home! Here's our simple syrup recipe!
Triple Sec: an orange liqueur that adds citrus and sweetness to the lemon drop martini. But, Cointreau can also be used!
a Fresh Lemon: a wedge to help rim the glass and a twist of lemon peel as the garnish. Use a channel knife for the twist!
Granulated Sugar: a sugared rim needs sugar. You can also use superfine sugar, and some people prefer this, but if you don't have any, granulated will do.
Tips and Tricks for the Lemon Drop Martini
High quality ingredients: When you make a cocktail with a small ingredient list, the better the ingredients, the better the flavor. Fresh squeezed lemon juice is essential in this cocktail.
Shake well: The longer you shake the Lemon Drop martini, the colder and tastier it is. We recommend 25-30 seconds. Also – chill your glass before pouring in the cocktail – this will keep it colder longer.
Glassware: The classic cocktail recipe calls for a martini glass. But, honestly we don't really use those. They can be big and bulky and not fun to drink out of. A coupe glass is much easier to handle and use.
Garnish: A lemon twist adds a perfect simple garnish and are easy to make with a channel knife. The sugared rim is also a nice touch for visual appeal as well as taste.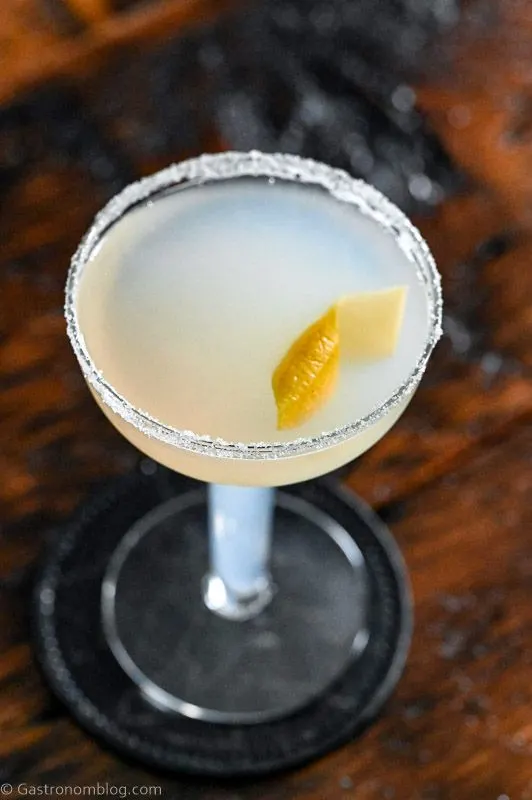 Can I make Lemon Drop Martinis for a Crowd?
Yes! Because the ingredients are pretty straightforward. All you need is to multiply the ingredients by how many people will be partaking.
If you want to make a pitcher of Lemon Drop Martinis for a crowd, try:
1 1/2 (12 ounces) cups vodka
3 ounces triple sec
3/4 cup (6 ounces) freshly squeezed lemon juice
4.50 ounces simple syrup
Store the pitcher in the fridge, even overnight. Make sure to not add ice until a few minutes before you are ready to serve, and ice down the glasses, too! You can even sugar the rim beforehand so you are ready to go!
Lemon Drop Martini Variations
This lemon drop drink recipe is pretty tasty as it is a classic, but here are some fun twists if you want to change it up!
Switch the lemon in the recipe and use lime juice, orange or grapefruit juice instead.
Make it a Fizz: Add a splash of Sprite tonic water on top just before serving. This can add some nice bubbles and a bit more sweetness, if wanted.
Leave out the Orange Liqueur. A lot of lemon drop drinks don't call for the orange liqueur, so feel free to leave it out.
Balance it to your taste: add more lemon juice if you want it more sour, or more simple syrup if you want it sweeter. Make it your own.
Add other Flavors: this is really a blank slate cocktail, so feel free to add other flavors: like a flavored simple syrup, or infused vodka, or fresh fruit. Some suggestions: lavender simple syrup, basil simple syrup, using a berry vodka or pepper vodka for spice. Muddle some strawberries, oranges or blueberries into the mix in the shaker before shaking. The possibilities are endless!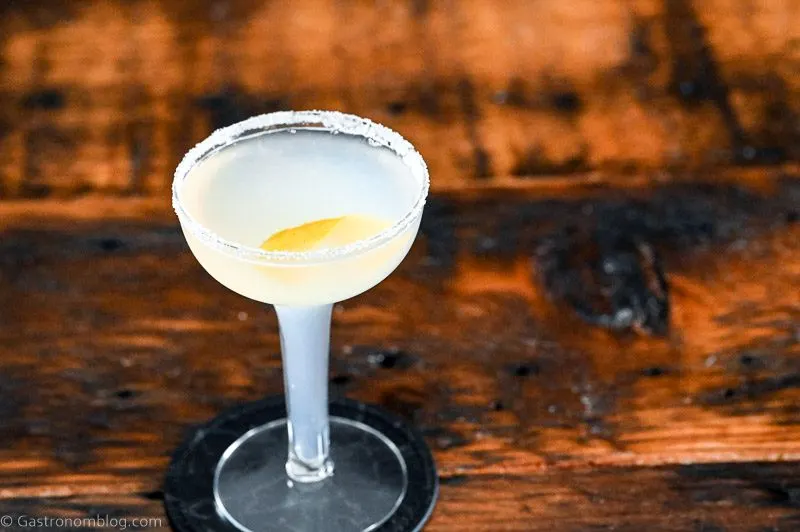 Cheers!
Also, don't forget to follow us on Instagram and tag #gastronomcocktails so we can see all the wonderful recipes YOU recreate from this site!
You can also subscribe to our newsletter so you never miss a delicious recipe again!
Like this recipe? Try these below, too!
Lemon Lavender Gin and Tonic Granita
Lavender Vodka Collins
Flavored Lemon Drop Martinis
Yield:

1
Lemon Drop Martini
This classic sour but sweet cocktail is tasty and full of lemon flavor! A Lemon Drop Martini is easy to make and a fun classic for sure!
Ingredients
2 ounces vodka
.50 ounce triple sec
1 ounce freshly squeezed lemon juice
granulated sugar, to rim glass
lemon wedge, to rim glass with sugar
lemon twist, for garnish
Instructions
Use the lemon wedge to wet the glass rim, then dip glass into sugar.
Set glass aside and being to assemble cocktail in shaker.
Add vodka, triple sec, lemon juice and simple syrup in shaker with ice.
Shake and strain into glass.
Garnish with lemon twist.
Cheers!
Recommended Products
As an Amazon Associate and member of other affiliate programs, I earn from qualifying purchases.
Nutrition Information:
Yield:
1
Serving Size:
4 ounces
Amount Per Serving:
Calories:

183
Total Fat:

.2g
Saturated Fat:

.2g
Sodium:

16mg
Carbohydrates:

12.5g
Fiber:

.1g
Sugar:

.6g
Protein:

.2g
Interested in stocking your own home bar? Make sure to see our favorites at our Amazon Store!
If you liked this post, don't forget to subscribe for new (and of course free) recipes by entering your email address on the side bar (and get all the recipes delivered to your inbox when we post), so you don't miss out on a thing. You can find us on Facebook, Instagram, and Pinterest!
Gastronomblog is a participant in the Amazon Services LLC Associates Program, an affiliate advertising program designed to provide a means for sites to earn advertising fees by advertising and linking to amazon.com