Last Updated on June 12, 2023 by The Noms
Exploring some Christmas Pop Up Bar experiences around Omaha, and around the country! Lots of fun around these Christmas Cocktails that are perfect for the spirit of the holiday!
'Tis the season for holiday pop up bars! Two locations in Omaha have temporarily transformed their space into winter wonderlands. Expect allllll the decorations, seasonal cocktails and Instagram worthy holiday inspiration. And don't wait too long, these seasonal events disappear soon after Christmas. Celebrate the season at these festive pop up bars and experiences in Omaha and around the country!
This post contains affiliate links for products that we think you as readers might find useful, and we make commission off of these! For more details about our affiliates, click our Disclosure and Contacts Page.
Mercury Omaha
Mercury is one of our favorite bars in Omaha, Nebraska! They always have great and fun cocktails throughout the year, they just got done with a cereal and breakfast themed bunch of cocktails, they were all delicious, I think we drank the whole menu! And their menu was on a cereal box, so we know they are super creative and make themed cocktails a favorite for us to visit!
Their Christmas Pop Up Bar cocktails are beyond excellent. Many choices, to fit all tastes, from whisky, gin, rim, tequila, vodka and cognac! Great holiday drinks with fun names like Mama Said Nog You Out (rum, black walnut, cream, almond milk and an egg), and Grandma's Killer Fruitcake (gin, cherry, amaretto, lemon, fruitcake).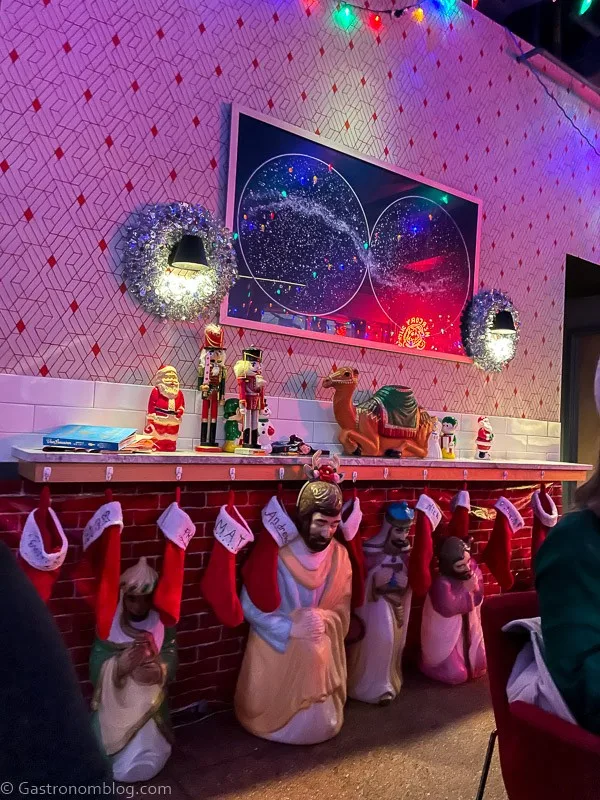 Jay and I had the What Exactly Is Figgy Pudding? (whisky, fig, pear and black walnut), Blue Christmas (white rum, coconut, lime, chartreuse, lychee honey foam, blue spirulina and peppermint), as well as the Wassail the Fuss About? (tequila, mezcal, mulled wine, lime, grapefruit, chocolate bitters and rosemary). These all scream holiday flavors to us, and we cannot wait to go back and visit again and try some more of these tasty sips!
Holiday Hut at the Cottonwood Hotel
Ring in the holiday season with craft cocktails and spirited cheer at the Holiday Hut! Open Thursdays and Sundays 4-10, Fridays and Saturdays from 4pm-midnight, this Christmas themed pop up is located in the Cottonwood Hotel's pool house! No reservations needed, but make sure to come and enjoy the spirit of the decor and cocktails!
This is happening in 2022 from November 11-December 30!
When we went it did fill up fast, almost as soon as they opened, so plan for that! You have to enter through the main part of the hotel, and then through the pool deck to the pool house, there isn't a back way in.
The cocktails they offer at this Christmas Pop Up Bar are part of a small seasonal offering. From creamier drinks like the Peppermint Espresso Martini, Jingle Bell Nog and the Rum Rum Rudolph. Other offerings are a seasonal margarita, mule and a chestnut old fashioned.
Just a few weeks left, so make sure to get out to this fun and festive event!
Miracle Pop Up Bar
Miracle Pop Up Bar is an event that happens all over the country, and many bars participate!
Miracle serves holiday cocktails in a festive setting. Combine kitschy holiday décor with cocktails, and Miracle is sure to get even the Grinch into the holiday spirit with spirits!
The concept of Miracle started in 2014 from the advice of his mother, Greg Boehm halted construction on what was to be his new East Village cocktail bar called Mace and changed the unfinished space into a pop up bar serving holiday themed drinks with over the top Christmas decor. Boehm's friends asked how they could recreate the holiday magic in their own bars.
In 2015 Miracle started 4 locations and in 2016, it went worldwide with pop ups in Greece, Montreal and Paris. Currently, it's all over the US, as well as pop ups in Canada, Europe, Asia, and Central America.
If you want to know if there is a location near you, check here. There are some all over, but unfortunately not here in Omaha!
Better yet, this pop up is more than just cocktails. The drinks are served in kitschy, collectible glassware and are available for purchase. Check each bar site for safety measures that are in place as well as menus and hours.
Miracle Pop Up Bar Cocktails
Noteworthy drinks at Miracle locations include the Christmapolitan, a twist on the classic Cosmopolitan. It's made with vodka, elderflower, dry vermouth, spiced cranberry sauce, rosemary, lime and absinthe mist. For those who have been naughty, there's the Bad Santa, a hot cocktail. The Snowball Old Fashioned is made with gingerbread infused whiskey and Wormwood bitters, and it has a snowball ice cube in the glass.
New this year is the Elfing Around as well as renewed recipes for the Jolly Koala and On Dasher! Also the Santa Rex which has tequila, mezcal, melon liqueur and citrus!
Sippin' Santa Pop Up Bar
Sippin' Santa is a tiki style pop up with tropical drinks and decor. Started in 2015 at Boilermaker in New York City, Sippin' Santa was the companion pop up to Miracle. Sippin' Santa has a tiki and Christmas theme. Santa on a surfboard instead of a sleigh and palm trees and beach instead of pine forests.
In 2018, they developed a partnership with Tiki connoisseur Jeff "Beachbum" Berry. Berry, described as one of Imbibe magazine's "25 most influential Cocktail Personalities of the Past Century" has created tiki holiday themed cocktails for Sippin' Santa.
Check out the Sippin' Santa Locations for this year!
Sippin' Santa Pop Up Bar Cocktails
This Christmas Pop up Bar has drinks like the Kris Kringle Colada (Dark Jamaican Rum, Cynar, Allspice, Lime & Pineapple Juice, Cream of Coconut) Christmas Eve Destruction (Dark Overproof Rum, Herbal Liqueur, Nutmeg Syrup, Lime Juice and Angostura Bitters). New drinks this year include the White Russian Christmas, Azul Navidad, Yule Log Grog, The Regifter, and Mistletoe-to-Toe.
Christmas Pop Up Bars
We hope this has been fun, and that it encourages you to get in the spirit of the season with some of these festive and seasonal Christmas cocktails at these events. Try Anna's Place all year long, too!
If you are looking for places to stay in Omaha to attend these fun events, we suggest The Cottonwood Hotel! Cheers!
Also, don't forget to follow us on Instagram and tag #gastronomcocktails so we can see all the wonderful recipes YOU recreate from this site!
You can also subscribe to our newsletter so you never miss a delicious recipe again!
Like this post? Check these out below, too!
Nebraska Tour Company
Bread Bar (Silver Plume, Colorado)
Interested in stocking your own home bar? Make sure to see our favorites at our Amazon Store!
If you liked this post, don't forget to subscribe for new (and of course free) recipes by entering your email address on the side bar (and get all the recipes delivered to your inbox when we post), so you don't miss out on a thing. You can find us on Facebook, Instagram, and Pinterest!
Gastronomblog is a participant in the Amazon Services LLC Associates Program, an affiliate advertising program designed to provide a means for sites to earn advertising fees by advertising and linking to amazon.com