Last Updated on June 12, 2023 by The Noms
This fresh and fruity non alcoholic sangria makes for a refreshing drink perfect for a party!
A good host remembers to stock up on the essentials for a party: beer, wine, and liquor for cocktails, of course! But, a great host remembers to provide a non alcoholic option for their guests too!
This post contains affiliate links for products that we think you as readers might find useful, and we make commission off of these! For more details about our affiliates, click our Disclosure and Contacts Page.
To make sure all of our guests can get in on the fun drinks, we love to serve pitcher cocktails! Pitchers or big batch cocktails are so much easier, people can serve themselves, as well as easy to make ahead of time, and you aren't playing bartender all night. This Non Alcoholic Sangria is so easy to put together and it can chill in the fridge that day until it's time to serve! Just before serving you add the lemon lime soda for a drink everyone will enjoy!
What Is Sangria?
Real Alcoholic Sangria is a mix of wine and fruit. Sometimes it includes added sugar, liqueur or brandy, and could almost be considered a cold mulled wine of sorts. It's a great large capacity cocktail for a party or a larger amount of people.
Sangria is a traditional Spanish drink and recipes for vary widely, even within Spain.
Does Virgin Sangria Contain Alcohol?
No, Non Alcoholic Sangria is non alcoholic. It is still made with a whole lot of fresh fruit, soaked in juice to swap out the wine. This Non Alcoholic Sangria is so easy to make with grape juice, orange juice and lime juice topped with lemon lime soda. We added oranges, lemon, lime and apples for a lovely and simple sip! It is kid friendly and great for events like a baby shower, work event or quality time with family and friends who don't drink.
With this virgin sangria there is no need to worry about getting tipsy! This non alcoholic sangria is a great drink option for a large batch and can be modified to be holiday festive with spices and flavors.
Non Alcoholic Sangria
This Non Alcoholic Sangria is a tasty assortment of fruit that gets ladled into each glass. It's a refreshing sip, and fruit snack, on a warm day! There are thousands of recipes for sangria, each using different combinations of wine and fruit, so it's a great option for whatever you have on hand to make the sangria with. For the fruit, thin slices of oranges, lemons, limes, plus an apple for crunch and sweetness.
When these fruits are steeped for several hours, the fruits both flavor the drink and soak up the juices, making them flavorful. They look pretty in the glass, but are fun to eat and garnish with!
Fruits to Add to Sangria
One of the best things about this non alcoholic sangria is that you can add all your favorite fruits or even fruit that are in season!
What Juice to Add to Sangria
We used a mix of juices to get the perfect taste in this non alcoholic sangria. You can adjust the juices based on what you like and what you have on hand.
Grape juice
Apple juice
Orange juice
Lemon juice
Lime Juice
Cranberry Juice
Pomegranate juice
Cherry juice
Pineapple juice
Apple Cider
Non Alcoholic Sangria Serving Tips
If you're going to make a non alcoholic sangria, it SHOULD be in a glass pitcher so that everyone can see the pretty colors!
Chill the sangria in the fridge for at least 1 hour before serving (preferably 2-3 hours if possible) to allow the fruit to steep into the juices.
You can easily make the recipe the day before and let it chill in the fridge overnight. Just wait to add the fruit until a couple hours before, and the lemon lime soda until serving.
This recipe can be doubled or tripled easily for a crowd!
Easy to customize: instead of the lemon lime soda, use ginger ale, club soda, sparkling water, tonic water.
The juices are easily customizable too: white grape juice is a great option for a lighter color!
Cranberries and spices (cinnamon, star anise, cloves) are a great option for a holiday non alcoholic sangria.
Garnish: the fruit in the sangria is a great option for a garnish – use a cocktail pick and lay it on top of the glass.
Sweetener: we didn't use any sweetener in this, as the juice was sweet enough, but if you pick tangier juices and need some sweetener, simple syrup and honey work really well!
Don't add ice cubes: this will water down the drink. Use cold ingredients and make sure to store in the fridge until serving.
How To Store Non Alcoholic Sangria
Keep this chilled in the fridge. The non alcoholic sangria will last up to 3 or 4 days.
What temperature should Non Alcoholic Sangria be Served at?

The sangria should be served chilled or room temperature. You can pour the sangria over ice if you want it more chilled.
How should the Non Alcoholic Sangria be served?
Sangria is best presented when it is served in a wine glass with a garnish. Add some fruit to each glass, then pour the sangria on top. Then, add a garnish.
What glassware is best for the Non Alcoholic Sangria?

Stemless wine glasses work great! If kids are drinking, may we suggest mason jars!
Cheers!
Also, don't forget to follow us on Instagram and tag #gastronomcocktails so we can see all the wonderful recipes YOU recreate from this site!
You can also subscribe to our newsletter so you never miss a delicious recipe again!
Like this recipe? Try these below, too!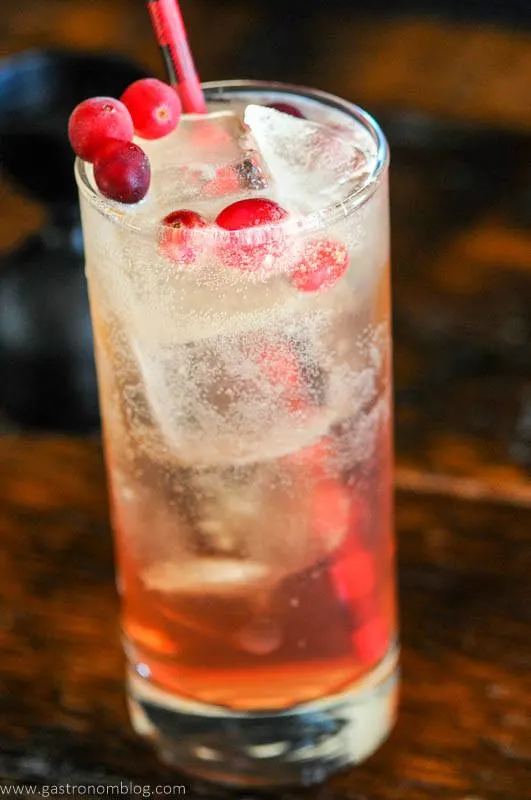 Cranberry Non Alcoholic Gin and Tonic
Lemon Non Alcoholic Spritzer
Other Fruity Cocktails
Yield:

1 pitcher
Non Alcoholic Sangria
Total Time:
2 hours
15 minutes
This easy non alcoholic sangria recipe is so simple to make, and so flavorful! Citrus juices and soda combine for this simple and tasty sip!
Ingredients
2 cups grape juice
1 cup orange juice
1/2 cup cranberry juice
1/4 cup lime juice
1/4 cup lemon lime soda
2 cups fruit: we used 1 orange, 1 lemon, 1 lime with citrus sliced and 1 apple, cubed
Instructions
Combine juices and fruit into a pitcher.
Let sit in the refrigerator for at least 2 hours.
Top with lemon lime soda right before serving and stir.
Cheers!
Recommended Products
As an Amazon Associate and member of other affiliate programs, I earn from qualifying purchases.
Nutrition Information:
Yield:
4
Serving Size:
1 cup
Amount Per Serving:
Calories:

158
Total Fat:

.3g
Sodium:

22mg
Carbohydrates:

38.3g
Fiber:

.8g
Sugar:

36.2g
Protein:

1.1g
Interested in stocking your own home bar? Make sure to see our favorites at our Amazon Store!
If you liked this post, don't forget to subscribe for new (and of course free) recipes by entering your email address on the side bar (and get all the recipes delivered to your inbox when we post), so you don't miss out on a thing. You can find us on Facebook, Instagram, and Pinterest!
Gastronomblog is a participant in the Amazon Services LLC Associates Program, an affiliate advertising program designed to provide a means for sites to earn advertising fees by advertising and linking to amazon.com